Broad-winged Hawk Project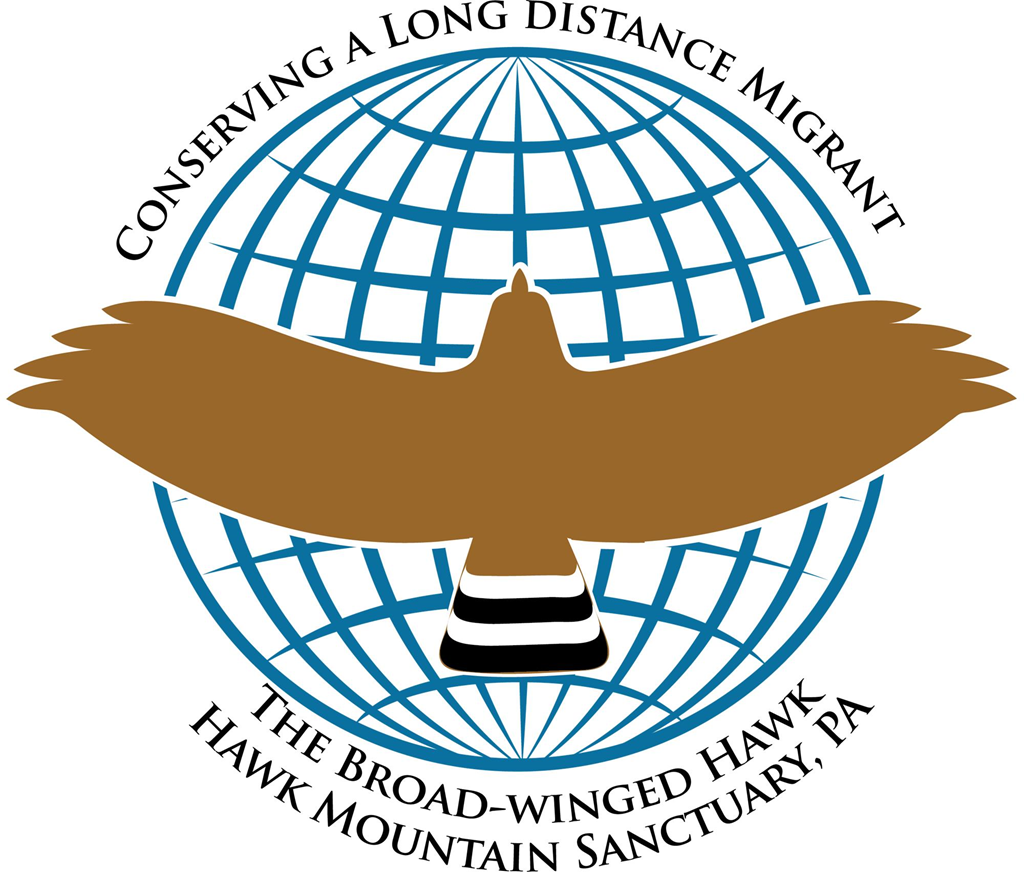 The broad-winged hawk nests in forests throughout eastern and central United States and southern Canada. It is designated a "Pennsylvania species of conservation concern" as its nesting distribution had declined by 16% since the 1980s. Regional declines had been noted in other northeastern states as well and on some migration counts.
Broad-winged hawks are one of the most abundant migrants observed at Hawk Mountain each autumn, as they concentrate in large flocks along the Kittatinny Ridge and at other watchsites during September. Although they are the most numerous migrant seen in east, comparatively little research has been conducted on habitat needs or migration and wintering ecology.
Because so little was known about this secretive species, in 2014 Hawk Mountain launched a study of the broad-winged hawk to better understand its ecology and conservation status throughout its life cycle. In 2015 and 2016, Rebecca McCabe, Research Associate, and Hawk Mountain scientists completed a two-year study of Broad-winged Hawk breeding ecology and nesting behavior observing nests in three regions of southern Pennsylvania, the Poconos, Ridge and Valley and Piedmont. We also examined habitat use of nesting birds throughout the state.
From 2014 through present, Hawk Mountain and its collaborators also have focused on understanding the migration and wintering ecology of the broad-winged hawk by tracking 12 satellite-tagged females from Pennsylvania nesting sites to wintering areas.
Track Their Movements Meet the Birds Follow the Project Facebook Project Blog Research Videos
For the near future, Hawk Mountain is focusing on:
Tagging male Broad-winged Hawks from Pennsylvania to compare migration timing and ecology as well as wintering distribution to data collected on females. If males winter in different regions they may face different conservation challenges.
Tagging female birds from different parts of the breeding range including New England (Maine, New Hampshire), Canada, and central United States (Minnesota, Wisconsin). Birds from different parts of the range may winter is distinct areas. To identify conservation threats, knowledge of migratory connectivity among populations.
Characterizing wintering and stopover habitats used by Broad-winged Hawks and comparing male and female habitat use patterns.
Estimating return rates and survivorship throughout the life cycle to assess conservation vulnerabilities.
The Team

Principal Investigators
Dr. Laurie Goodrich
Rebecca McCabe, M.S.
Collaborators
David Barber, Hawk Mountain
Chris DeSorba, Biodiversity Research Institute, Maine
Dr. Mark Martell, Minnesota
Dr. Terry Master, East Stroudsburg University, Pennsylvania
Dr. Scott Stoleson, Northeast Forest Experiment Station, Pennsylvania
Volunteers - Volunteers are key members of the Broadwing team.
Holly Hartshorne
Bob and Karen Davidheiser
Robert Feldman
Lisa Schnell
Thank you to our Supporters

Pennsylvania Game Commission State Wildlife Grant Program
Kittatinny Ridge Coalition (Audubon Pennsylvania, Appalachian Trail Conservancy)
East Stroudsburg University
ATAS, Inc.
PA Wild Resource Conservation Program, DCNR
PPL, Inc.
Met Ed, Inc.
West Chester Bird Club
Generous private sponsors who have sponsored transmitters or our research providing crucial support.

How can you help?
We always appreciate donations to help our efforts. Donors at the $5,000 level can name a bird. Contact Dr. Laurie Goodrich (570-943-3411 ext 106 or [email protected]), or click the button below and include in the comments of the form that the online gift is for broad-winged hawk research. See a nest? Report it now!