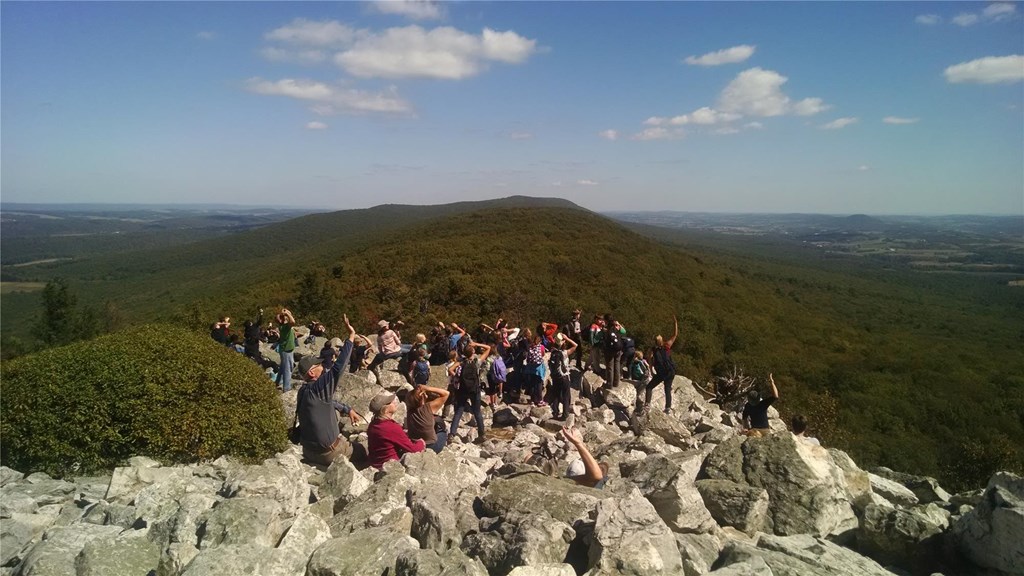 Planning on visiting Hawk Mountain with a group? Be it scouts, students, family members, or friends, make sure you take the appropriate steps to guarantee a good time on the trails.
Looking to add a program or book a guided hike for your group? Click the button below.
Know the Basics
1. Register your group visit as early as possible by calling the bookstore at 610-756-6961 between 9 am-5 pm daily. Be prepared to share the estimated number in your group (adults and children), one or more possible dates, and contact information. This step qualifies your group for a DISCOUNT on trail admission and also ensures you don't end up sharing the lookout on the same day as several other groups.
2. Group discounts are available to groups who pre-register at least two weeks in advance.
3. On busy spring and fall weekdays we may suggest an alternative date for visiting in order to limit the total number of groups present.
4. Sorry, pre-registered rain dates are not allowed. If your group cancels due to inclement weather, you may reschedule for another available date at the time of the cancellation.
5. Upon arrival, your group organizer should report to the Visitor Center, provide the bookstore staff with the exact number in your group and pay. Payment may be cash, check, or credit card. Here you can ask any questions you may have about the trails before heading out.
Tips for a Successful Trip
1. If you are a school, scout, or summer camp group, we recommend one chaperone per 5 students.
2. If you have a large group, take the time before your trip to assign small groups of 10, each with a designated chaperone. When you arrive, break into these pre-assigned groups and stagger leaving the bus area, each group departing a few minutes after the last.
3. As a courtesy to other visitors, please limit the number of students in the bookstore at one time to 30. We suggest one group of 10 visits the Native Plant Garden while another visits the Bookstore exhibit, and a third stops at the restrooms.
4. Review the importance of a wildlife sanctuary versus a public park (leave no trace).
5. Make sure each group member is properly dressed.
6. Remember that Hawk Mountain is a carry-in, carry-out facility and has no trashcans. Each visitor is responsible to carry their own items, and then to carry trash back out.
7. Please be sure to practice good trail etiquette. Put phones on silent and keep your voices down.
8. Use our downloadable materials to help you make the trip more educational for your group.
Come Prepared
Shoes: Wear sneakers, hiking boots or shoes with sturdy soles support. Due to the rocky trails, sandals and are strongly discouraged.
Clothes: Carry an extra jacket during fall, and suggest dressing in light layers. It is always ten degrees cooler at the top of Hawk Mountain.
Food and Drink: Bring a packed lunch that's easy to eat outdoors, and a plastic bag to carry out your trash. Sandwiches, packaged snacks and trail mix are great options. Bring bottled water, or another drink with a twist-on cap.
Something Soft to Sit On: An extra jacket makes a soft seat at the lookout. Another great reason to bring one.
Binoculars: It's disappointing to climb the mountain and discover that the birds are soaring too high for you to see. Try to bring at least one pair to pass around your group, or, you can rent binoculars at the Visitor Center with a driver's license and credit card hold. (Binocular rentals are currently not available due to Covid Precautions)
Bring a Day Pack: Keep your hands free, and carry your food, drink, optics, a seat pad and some extra clothing in a small daypack. You'll be happy you brought it.
🞷 Don't knock yourself out getting everything right on your first trip. If you are a novice to bird watching and it's autumn migration season, you're in luck. A trained naturalist will be on hand to announce and identify approaching birds. This way, you know where to look and also what you're seeing.