Scout Programs and Events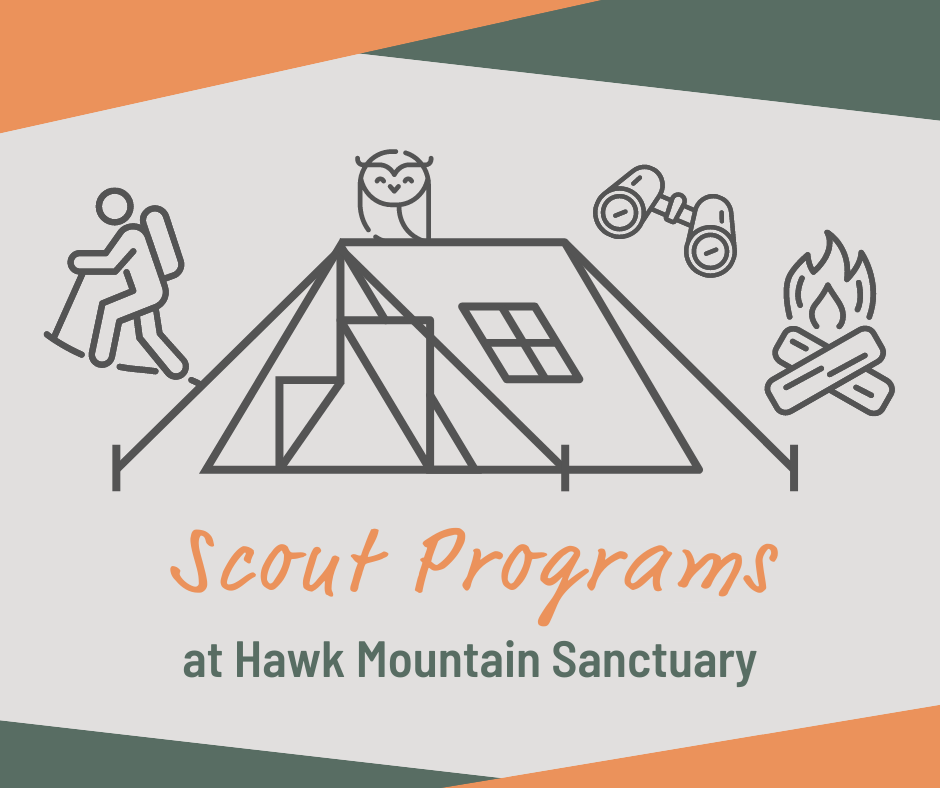 Night on the Mountain
New Scout Overnight Program!
$65 per scout + additional $8 for each parent staying overnight
12 person minimum
Bring your sleeping bags and get ready to experience A Night On The Mountain! Your nocturnal adventure at Hawk Mountain Sanctuary may include live raptor programs, teambuilding activities, owl pellet dissections, crafts, and animal encounters. Activities can be custom designed or themed to meet the specific interests or badge requirements of your group. In the morning, enjoy a delicious breakfast and then embark on a naturalist-lead guided hike to our scenic North Lookout to greet the day. Groups can choose to sleep in our campground or in our Adirondack shelters.
Please contact Jamie Dawson at [email protected] to schedule private programs for your scout group. Programs can be custom designed to fulfill specific badge requirements!
Adults participating in scout overnight programs are required to have successfully completed youth protection training and must adhere to all required scouting protocols and clearance requirements.

Day on the Mountain
$35 per scout
12 person minimum
Interested in bringing your scouts to Hawk Mountain for just the day? We can customize any group education program with or without live birds, guided hikes, teambuilding activities, etc. to fit your needs.
Scout Badge Programs
Hawk Mountain offers a variety of FUN educational adventures for diverse scout groups. Scout programs can be customized to fulfill specific badge/pin requirements to fit the needs and interests of your group. Girl Scout Award & Explorer Badges, Cub Scout Weeblos & Arrow of Light Elective Adventures, Boy Scout Merit Badges, and more! Topics of badge/pin requirements that can be completed at Hawk Mountain include, but are not limited to: nature, birding, wildlife, science, hiking, camping, survival, adventure, ecology, conservation, and art.
Pricing for scout programs varies based on length of program, materials, and number of participants. Please contact Jamie Dawson at 610-756-6961 x 208 or [email protected] for more information or to schedule a scout program.
Boy Scout Badge Options
Boy Scout Merit Badges
• Bird Study
• Nature
• Hiking
• Camping
• Exploration
• Environmental Science
• First Aid
• Forestry
• Insect Study
• Nature
• Orienteering
• Plant Science
• Reptile and Amphibian Study
• Wilderness Survival

Cub Scout Weeblos & Arrow of Light Elective Adventure Requirements
• Adventures in Science
• Art Explosion
• Castaway
• Earth Rocks!
• Into the Wild
• Into the Woods

Girl Scout Badges
Daisies (Grades K-1)
• Buddy Camper
• Eco Learner
• Outdoor Art Maker

Brownies (Grades 2-3)
• STEM Career Exploration
• Trail Adventure
• Bugs
• Sensory
• Hiker
• Outdoor Adventurer

Juniors (Grades 4-5)
• Animal Habitats
• Camper
• Outdoor Art Explorer
• Eco Camper
• Junior Trail Adventure

Cadettes (Grades 6-8)
• Cadette Trail Adventure
• Primitive Camper
• Outdoor Art Apprentice

Seniors (Grades 9-10)
• Adventure Camper
• Senior Trail Adventure
• Ultimate Recreation Challenge

Ambassadors (Grades 11-12)
• Ultimate Recreation Challenge
• Outdoor Art Master