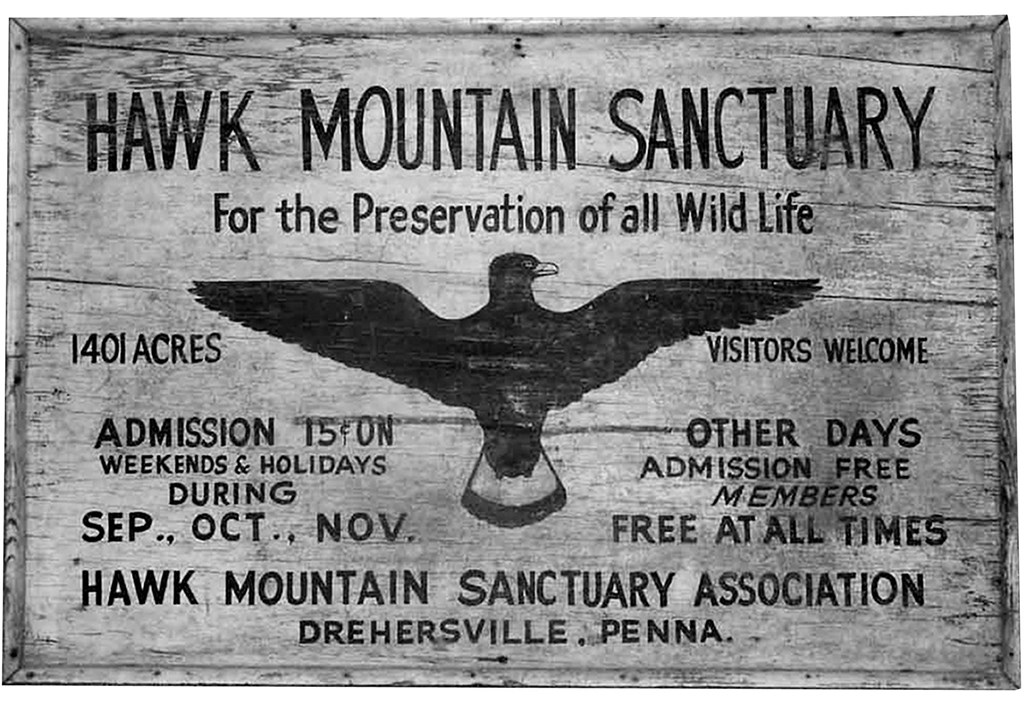 Our Mission

The mission of Hawk Mountain Sanctuary Association is to conserve birds of prey worldwide by providing leadership in raptor conservation science and education, and by maintaining Hawk Mountain Sanctuary as a model observation, research and education facility.
Our History

As the world's first refuge for birds of prey, Hawk Mountain Sanctuary has a dramatic history that started during the Great Depression with amateur ornithologist Richard Pough. In 1929, Pennsylvania's Game Commission placed a $5 price tag on the goshawk's head—a grand sum at the time. Two years later, while Pough was a recent college graduate living in Philadelphia, he became one of a growing number of conservationists opposed to the widespread movement to eradicate wildlife predators, including predatory birds.
Pough heard of the place locals called "Hawk Mountain" and decided to visit. There he saw gunners stationed, shooting hundreds of passing hawks for sport. He returned to gather the carcasses lying on the forest floor and take photographs. Pough's photographs were eventually seen by a New York conservation activist, Rosalie Edge.
In 1934, Mrs. Edge came to Hawk Mountain and leased 1,400 acres. She installed a warden on the property, a New England bird enthusiast named Maurice Broun, and Maurice's wife and bird conservation partner, Irma Broun. The shooting stopped immediately and the next year, Mrs. Edge opened the Sanctuary to the public as a place to see the beautiful but persecuted birds of prey. She purchased and deeded the 1,400 acres to Hawk Mountain Sanctuary Association, incorporated in 1938 as a non-profit organization in Pennsylvania.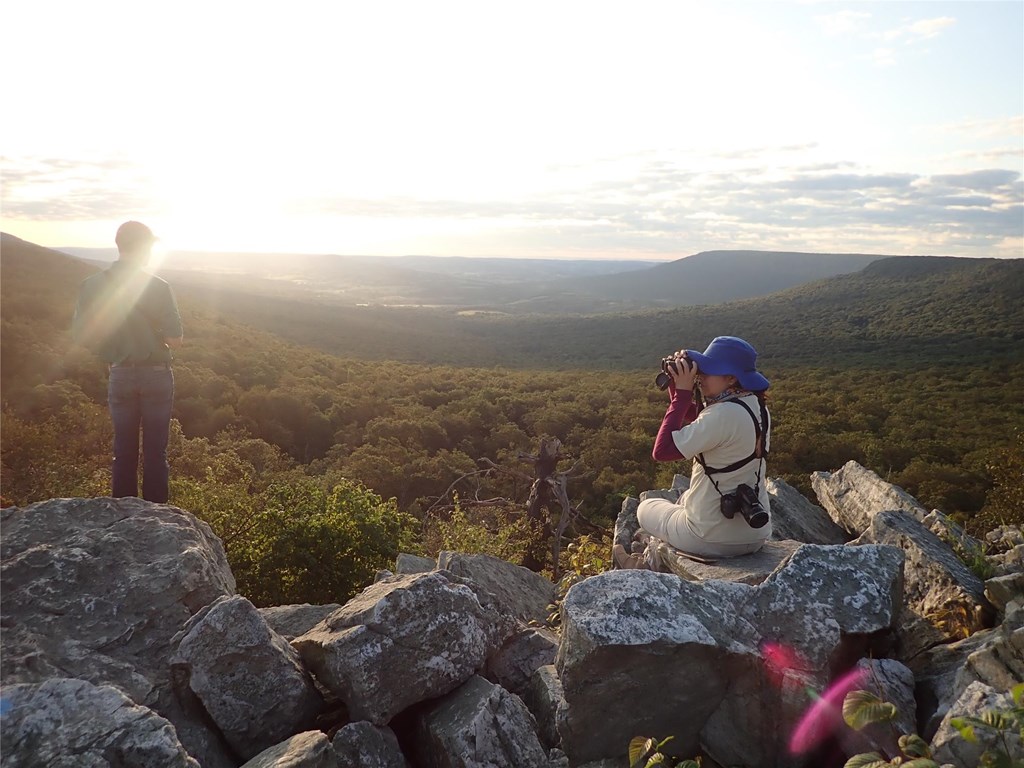 Who We Are Today

Hawk Mountain Sanctuary has since grown to 2,600 acres, with over 60,000 visitors per year and more than 9,000 members that keep the Sanctuary's mission alive.
On- and off-site, HMS helps to educate through lectures, workshops, programs and events, while also offering access to its 8+ miles of hiking trails for firsthand learning and observation. For 85 years, visitors have been able to immerse themselves and experience raptors in this native habitat.
Hawk Mountain uses a local-to-global approach in conservation, seeking to educate the public and conserve raptors in the immediate area as well as across the country and the world. Through its extensive trainee programs, educators and conservationists learn from qualified, dedicated scientists and educators the best methods for research and outreach. By taking on these trainees, the Sanctuary has already helped further conservation programs in Africa, Central and South America, the Arctic, and more. In places like Batumi in the Republic of Georgia, our traineeship graduates have helped establish locations with a similar origin story to ours exchange damaging raptor hunting for eco-tourism.
Our mission soars forward thanks to generous support via visit, membership, or donation, and Hawk Mountain can continue to be a leader in the global wildlife conservation movement.
Historical References

Hawk Mountain History: A Teacher's Guide
From our Hawk Mountain Teacher's Guide, the chapter on Hawk Mountain history including information on the Lenni Lenapi, Schaumboch's Tavern and our founders.
Rosalie Edge, A Most Determined Woman
A short biography written by son Peter Edge for presentation at the Chicago Literary Club in the 1980s, and later slightly revised for the Founder's Day Lecture at Hawk Mountain in July 1998.
Giants of the Past, Maurice Broun
Remembrances of first Curator Maurice Broun, as written by Michael Harwood and published in American Birds magazine. Reprinted with permission.