Spring Campaign and Online Auction
Make a gift now to the Spring Campaign
Help to support this year's Benefit for the Birds, a Spring Campaign and online auction that opens Thursday, May 12 and continues through Thursday, June 30. The online auction kicks off at our new and improved in-person event (see details below)

Questions? Contact Tammy at [email protected] or 570-617-6541 to make or commit a cash gift by check or phone, or for assistance with the online auction.

Thursday, May 12 through Thursday, June 30
Visit the Online Auction page and click "Get Started" to log in or create an account. You will then be able to browse and place bids. Expand the section below for detailed instructions.
Online Bidding Instructions
The silent auction online bidding will take place on the Greater Giving platform, which has been used for mobile and virtual bidding the past several years. To register, visit hawkmountain.org/galabidding.
To create an account, click GET STARTED in the top corner and log in/register your account. In your confirmation email, you will receive a link that will take you to the page where you will input your contact and credit card information.
If you had an account in the past but do not remember your password, click "resend password." Follow the instructions that are sent to your email.
You must input your credit card information to participate, but you will not be charged until the bidding event is finished and if you won an item.
Make sure to press the big START BIDDING button, and have fun!
Help us Reach our Fundraising Goal
If you would like to sponsor this event with a gift of $250 to $2,500 to $5,000 or more, please download, complete, and send the form below to Tammy at [email protected] or call 570-617-6541. Thank you for your support!
Donate to the Spring Campaign Sponsor the Benefit for the Birds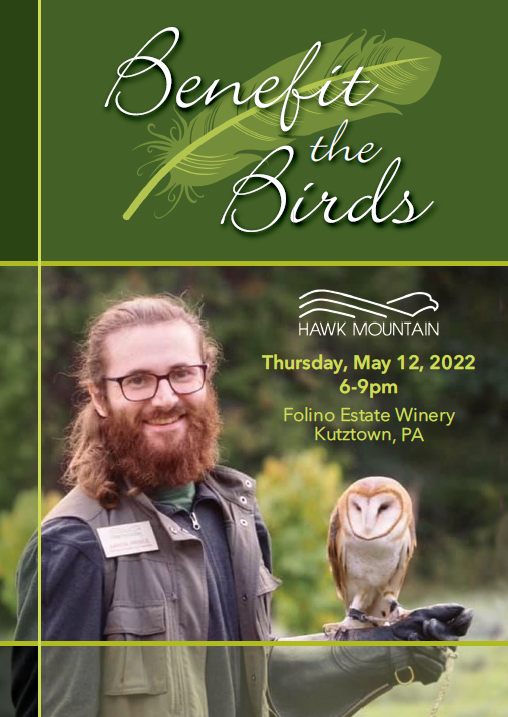 Benefit for the Birds 2022 Gala
Thursday, May 12, 6 - 9 PM
$150
Folino Estate Winery, Kutztown
Enjoy an evening of mingling, good food and company all to benefit Hawk Mountain and its mission. Contact Tammy Jandrasitz-Bodey at [email protected] to receive an official invitation.
Schedule:
6-8pm - Beer and Wine Open Bar
6-9pm - Heavy Hors d'oeuvres and Socializing
7:15pm - Welcome and Hawk Mountain Updates presented by President Sean Grace
7:30pm - Live Auction & Online Silent Auction Opens
8-9pm - Cash Bar Available
There will be a number of tables with seating offered to sponsors and/or those in need of seats. Cocktail tables are provided to enjoy the selections, and, weather permitting, outdoor space is available to relax and meander.
Contact Information
If you need any assistance, please feel free to contact any of the following members of the Development team.
Tammy Jandrasitz-Bodey

Membership & Volunteer Manager, Gala Coordinator
Mary Linkevich
Director of Development
[email protected]
Gigi Romano
Communications Specialist
[email protected]