Our Global Conservation Partners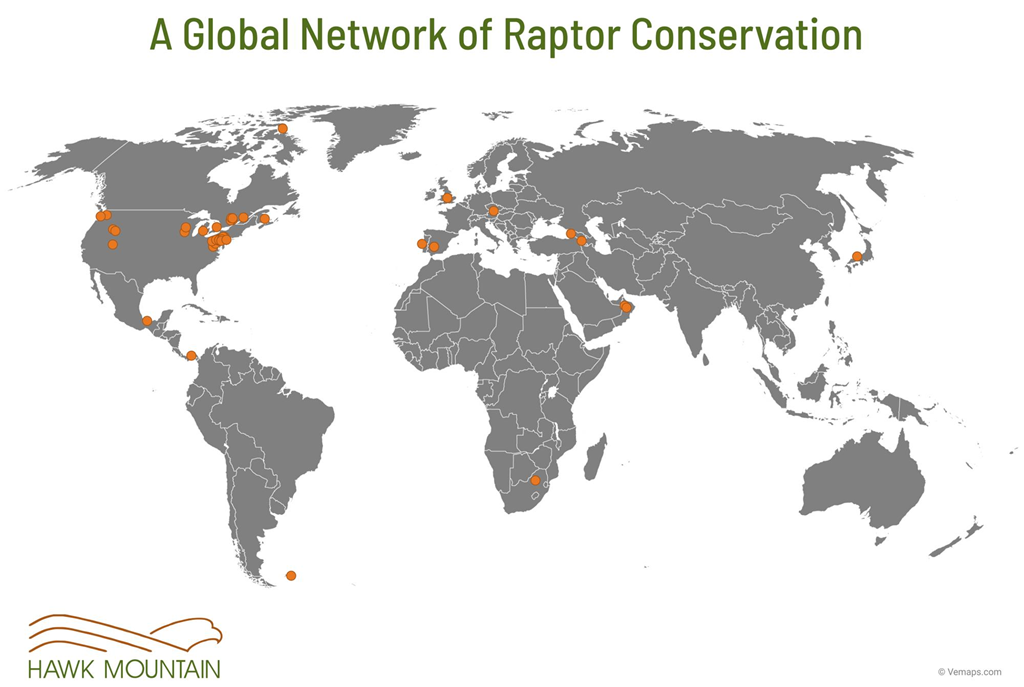 As our mission mandates, Hawk Mountain Sanctuary strives to become a global model for raptor conservation. Some of the raptor species we aim to protect can be seen in our backyards, and some are in remote locations across the world. At least 62 percent of all species of raptors undertake seasonal migration, which can span across multiple countries and continents. Effective conservation of these birds can be achieved through global collaboration, and communication. As a leading raptor conservation organization, Hawk Mountain has established an international presence of collaborative raptor conservation. We continue to expand our global reach, cultivating conservation partnerships with a diverse network of conservation organizations and researchers.
Our partnerships span across more than 50 regional, national, and global organizations. We work with research associates, graduate students, local conservation education centers, former trainees and interns, and national and international organizations supporting research, education, and conservation. We hope to continue to foster the spirit of collaborative conservation as we expand our global network with new partnerships and opportunities.
Many of our current partners are listed below. Click on the links to learn more about each organization or project.
Global
Acopian Center for the Environment
ArcticNet
Asian Raptor Research and Conservation Network
Batumi Raptor Count
Bird Studies Canada
Bylot Island Migratory Bird Sanctuary, Managed by Université Laval
Canada Research Chair in Polar and Boreal Ecology, Université de Moncton
Endangered Wildlife Trust, Dr. Lindy Thompson
Falcon Research Group
Falklands Conservation
Fundacion Migres
Global Raptor Information Network
Hawk Migration Association of North America
Hawk Watch International
Institute for Nature Conservation and Forests (ICNF), Alfonso Godino
International Avian Research, Austria, Dr. Mike McGrady
Natural Sciences and Engineering Research Council of Canada (NSERC)
Networks of Centres of Excellence (NCE) Program
Monarch Teacher Network
Panama Audubon
Polar Continental Shelf Program (PCSP), Natural Resources Canada
Project SNOWstorm
Raptor Research Foundation
River of Raptors: Pronatura Veracruz
The Fonds de Recherche du Québec Nature et Technologies
The Peregrine Fund
Vulture Awareness Day
Raptor Population Index Project Partners
Bird Studies Canada
Hawk Migration Association of North America
HawkWatch International
Learn more about the Raptor Population Index, a collaborative project to assess the conservation status of birds of prey across the continent.
National
American Bird Conservancy
Coastal Raptors
Hawk Migration Association of North America
Project Owlnet
Raptor Services, LLC, Wisconsin
U.S. Fish and Wildlife Service
Regional
Appalachian Trail Conservancy, Mid Atlantic Office
Bat Conservation & Management, Dr. Aaron Haines of Millersville University
Berks Nature, Reading PA
Cedar Crest College
Electric City Aquarium
Kittatinny Ridge Coalition
Kutztown University
Lehigh Valley Audubon Society
PA Bat Rescue
Penn State Extension, Berks County
Pennsylvania Audubon
Pennsylvania Department of Conservation and Natural Resources (DCNR)
Pennsylvania Game Commission
The Barn Nature Center
The National Aviary
The Nature Conservancy in Pennsylvania
Wildlands Conservancy