Becoming a Raptor Up Close Volunteer
Volunteer Mentorship Part 2
Posted on in On the Mountain by Kelsey Schwenk, VolunteerKelsey Schwenk, Volunteer
Read part 1, written by Kelsey's mentor Cheryl Faust, here.
My volunteer journey at Hawk Mountain Sanctuary began in summer 2018, as I searched for an outlet to provide myself with personal fulfillment I had been missing from my full-time job.
I had completed my Master of Science in Natural Resources in 2017, following the earlier completion of a dual Bachelor of Science degree in Wildlife Conservation and Agriculture and Natural Resources. Although I was lucky enough to score full-time employment in the environmental science field, it was far from the 'dream job' I had envisioned while completing my degrees. I yearned for an opportunity to work with wildlife and my mom suggested checking into possible opportunities at the mountain. After researching volunteer opportunities and speaking with employees at Hawk Mountain, I was convinced volunteering was for me. I was not quite sure in what capacity I would serve, but was willing to try just about anything!
In that first summer, Rachel Taras introduced me to the captive birds, and I began feeding and cleaning enclosures on the weekends, as help was needed. It may seem like menial work to most, but after multiple years working on the university dairy farm and raising dogs my entire life—I recognized the importance a healthy, clean environment played in the life of any animal. This alone was a dream—never did I think I would be stepping foot into enclosures with a red-tailed hawk or eastern screech owl. It became the highlight of my week.
I thoroughly enjoyed my interactions with the captive birds, but knew I wanted to do more. As a graduate student, I began teaching for my professor and this experience continued into my full-time job where I sporadically helped with educational events related to an array of environmental topics. That's where Raptors Up Close! came into play. After developing a relationship with the birds, volunteering as an educator would be the perfect way for me to teach others about these feathered friends now near and dear to my heart. To be honest, I wasn't always a bird nerd—growing up, I was admittedly drawn to the charismatic mammals of the African plains or the American Midwest. However, following many years of formal education and personal life experiences, I started to grow an abounding appreciation for birds. They are truly such spectacular creatures with fascinating adaptations that often go unnoticed by many. What better way to help people understand and value avian species than informal presentations with live raptors at the world's first refuge for birds of prey.

In order to become a presenter, I was first tasked with attending presentations led by each Raptors Up Close! volunteer. Then, I was matched with a mentor who would lead me through the process of learning the material to present, while also teaching me the ins-and-outs of handling the captive birds. I was lucky enough to be paired with Cheryl Faust—a fellow dog and bird lover. While she had experience raising horses, somewhat similarly I had spent much time around dairy cows. These similarities and our time spent with companion and livestock animals was a cornerstone to my training.
Cheryl always stressed the importance of reading and understanding body language in order to discern cues that may go unnoticed by those who have not spent much time around animals. We began with the basics then incrementally introduced new steps. She and I tackled fall 2019 presentations as a dynamic duo. At the beginning of the migration season, Cheryl took the reins and helped ease me into presentations—an approach I was so thankful for. Each weekend of presentations, we varied roles and she allowed me to do more and more as the migration season progressed. By the end of fall 2019, I had successfully presented a complete program (while still letting Cheryl field the more difficult questions following the presentation!)—but there was still much work to be done. We continued working together through wintertime where I was really able to hone my skills as a handler. Cheryl has a meticulous and methodical approach to bird handling, which truly benefitted my experience. Admittedly, I was quite nervous during my first couple sessions with the birds, but after multiple months training with Cheryl, I am not only comfortable but confident with the captive raptors.
This experience has benefited me in more ways than one. Not only do I get the personal satisfaction of teaching others about the importance of raptors in ecological systems and the fascinating adaptations allowing them to thrive in those ecosystems—but I have been afforded the opportunity to work one-on-one with wildlife. Furthermore, my time with Cheryl has helped me to develop bird handling skills, while refining my ability to remain calm and composed in the presence of the birds, as they truly feed-off of their handler's energy. I have learned it is in their and my best interests to continue practicing these skills to establish a sound, trusting relationship.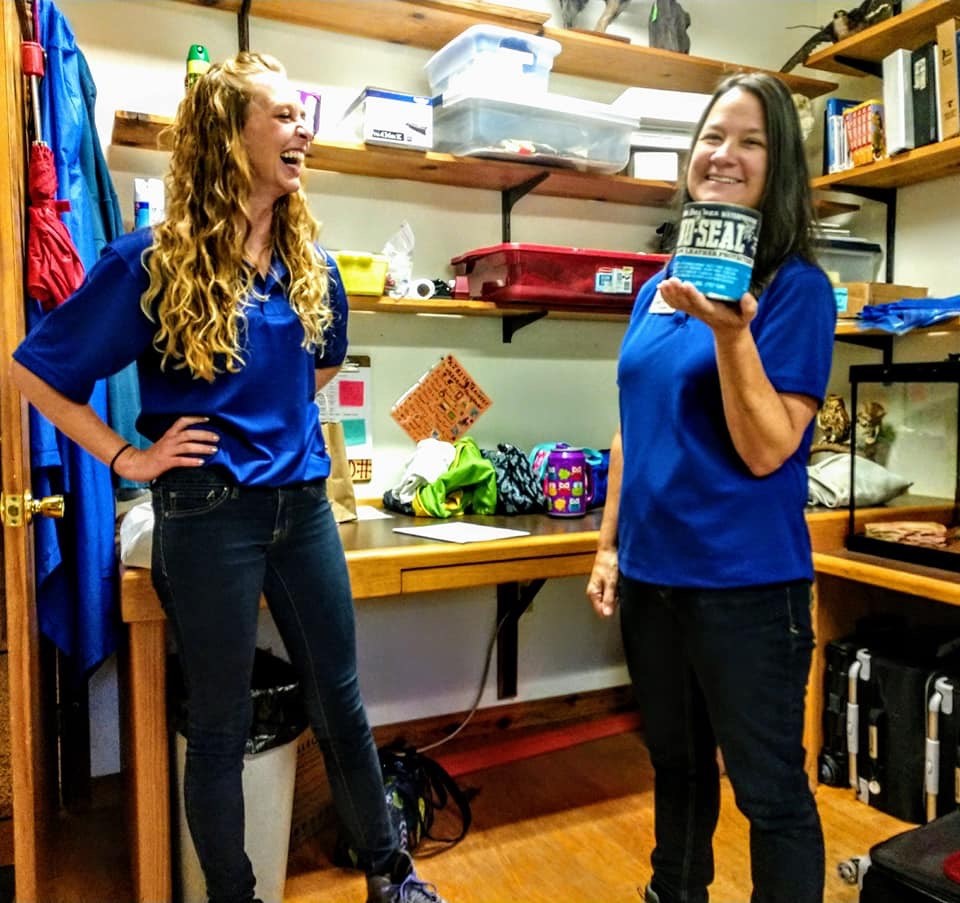 When I first began this journey, I did not know I would get back so much more than I am giving. Spending time at the mountain is not only cathartic for my soul, but a chance to be surrounded by people who share my passion for birds. I have also met some really wonderful friends along the way, both human (like Cheryl) and the feathered-kind, and I could not be more grateful that our paths crossed at Hawk Mountain Sanctuary.
In closing—I would like to extend my sincerest gratitude to Cheryl Faust for agreeing to be my mentor through this process. My successes at the Mountain are a direct reflection of her outstanding guidance, willingness to allow me to learn (and even make mistakes), and the huge time commitment she chose to make. Her encouragement has helped build my confidence as an educator and I aspire to be half the presenter and bird-handler that she is one day.
Be sure to read part 1, written by Kelsey's mentor Cheryl Faust, here.