On the Road to Becoming a Hawk Mountain "Raptors Up Close!" Mentor
Posted on in On the Mountain by Cheryl Faust, VolunteerCheryl Faust, Volunteer
I came to the mountain in August 2013 looking to volunteer in some kind of capacity with the captive raptor collection. After Rachel Taras explained the volunteer opportunities and the time commitment I decided I wanted present "Raptors Up Close!" or RUC programs.
As Rachel's mentee I learned and honed my animal handling skills often on a weekly basis. My experience with handling horses and reading body language came as a great help to me. I have always been drawn to animals and have over 40 years experience handling and training dogs and horses. My past animal husbandry experience assisted me greatly with building my trust accounts with the education birds, the similarities were frequent. I know animals can pick up on our feelings and it is important to remain calm at all times even when things might not go as planned.
After 4 years of handling Hawk Mountain's education birds, creating trust accounts with them, and presenting programs, Rachel asked me if I was interested in becoming a mentor. After some thought I decided this was a great opportunity for me not only to spend more time with the education birds, but to pay it forward.
My first mentee was Andrea Ambrose in 2017. This was a short-term mentor/mentee relationship because Andrea already had bird handling experience. I was tasked with mentoring Andrea until she became successful and comfortable retrieving birds from their enclosures.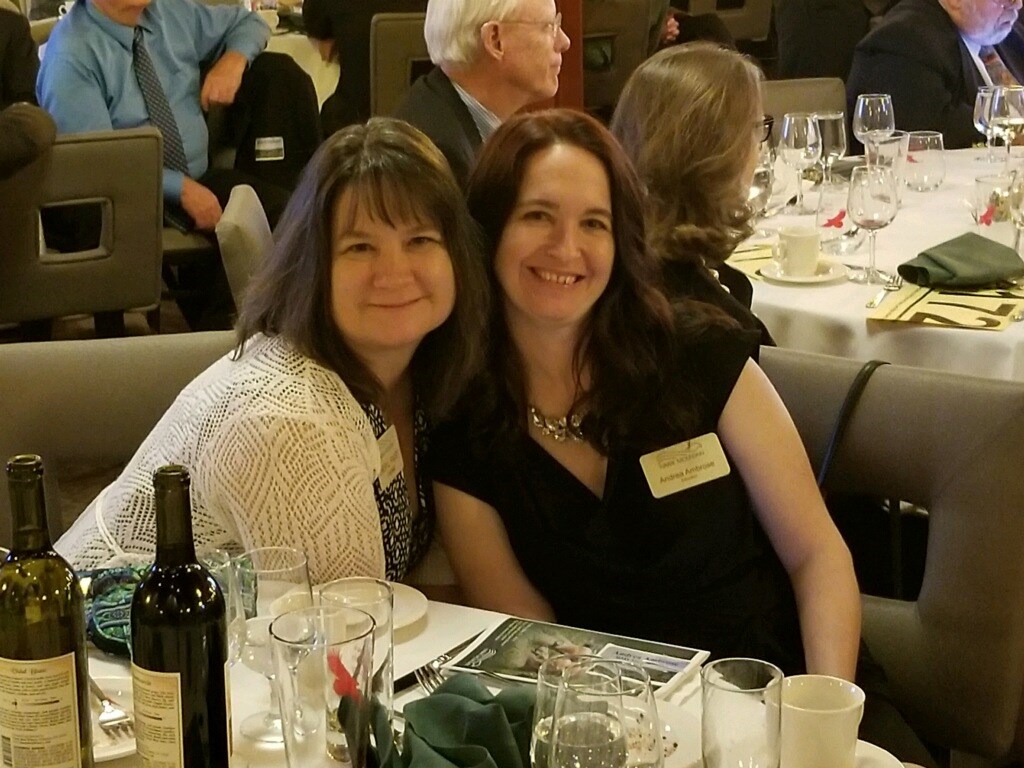 In Spring 2019 Rachel introduced me to a new possible mentee, Kelsey Schwenk. Kelsey and I hit if off right away; she was a fellow dog person and we had a lot in common. I knew right away Kelsey had the calm personality and common sense that is required to handle the education birds so I agreed to be her mentor.

All new RUC volunteers are tasked with attending current RUC volunteer programs for one migration season. This serves several purposes including helping to determine commitment. Kelsey not only attend programs, she volunteered to feed the education birds when needed. This was an excellent approach because the birds were having frequent positive experiences with her.
The next step was for Rachel to introduce Kelsey to the education birds. Once she held each bird I took over as her mentor.
My approach to mentorship is to always put the birds first. Nothing is more important than the bird's health and safety. You will often hear me say, "it is all about the birds!" We took our training slow; we repeated things frequently; we both asked questions. We would mimic scenarios first with a bird puppet and then with a real bird. For example, when practicing to carry travel boxes down the stairs to the gallery we first did it with empty boxes, then with a weighted bean bag bird in the box, and finally with a real bird in the box. All of the repetition builds up confidence, knowledge, and muscle memory. Kelsey excelled with every possible exercise I could think of; she was ready to help me present programs for the fall 2019 migration season.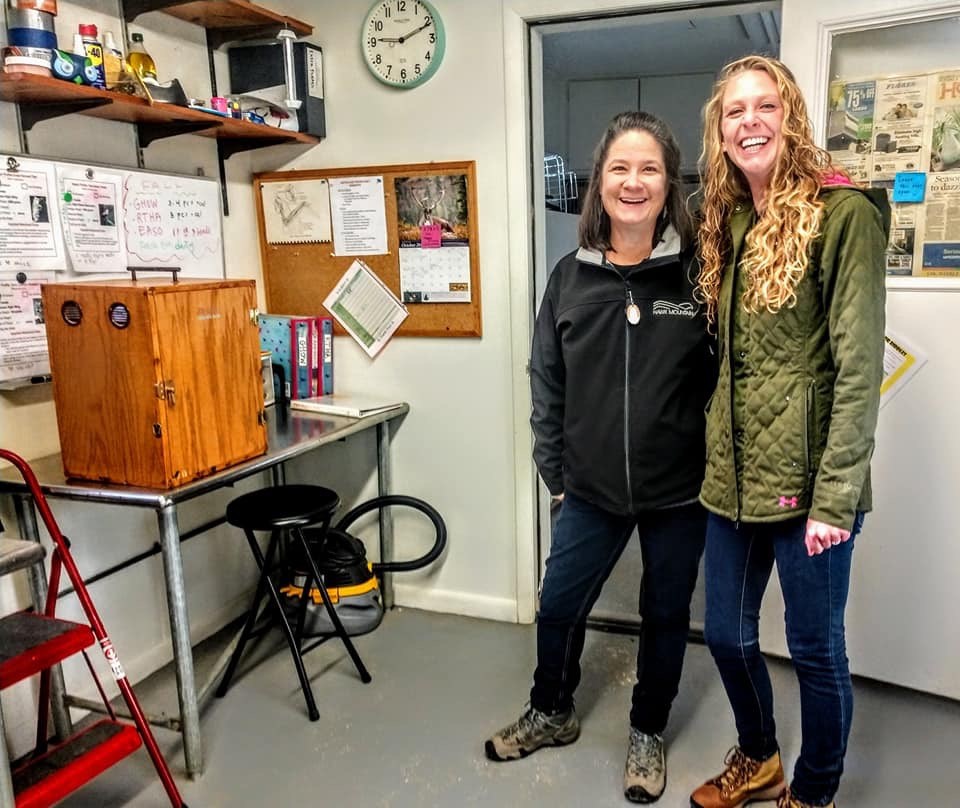 Fall migration season is busy and volunteers usually present 4 to 6 programs so I knew I would be able to have Kelsey add to her program throughout the season. Early on I presented all of the information and I had Kelsey hold the education birds. After each program I would offer additional thoughts and would double check with Kelsey to see if she had any questions. Then we switched tasks where Kelsey would present all of the information and I would hold the birds. By the end of the season Kelsey put everything she learned together and presented the last day of programs entirely by herself. We ended the fall migration season on such a high note and I didn't want to lose momentum!

I decided to ask Rachel if it would be okay if Kelsey and I continued to come up over the winter to work with the birds and she thought that was a great idea. I was a little nervous to ask Kelsey if she could commit to coming up to the mountain every other weekend to continue her training. When I emailed her my thoughts I found out she really wanted to keep coming up too! I was ecstatic because this again showed her continued commitment to the education birds.
Over the winter Kelsey and I worked on her trust accounts with the birds and concentrated on her learning how to return birds to their enclosures. Again, she has excelled with every task I have asked of her. We work so well together from handling birds, to cleaning enclosures, to cleaning and greasing jesses.
Somewhere along the road I found two lifelong friends, created better trust accounts with the education birds, and helped pay it forward. As of Spring 2020 Andrea will be moving into a full time position out West, I couldn't be happier for her! Kelsey will officially have fledged the nest and will fly forward to become an amazing Raptors Up Close! volunteer. I couldn't be prouder of Kelsey and her bird handling skills.
Stay tuned for Kelsey Schwenk's Part Two of our Mentor/Mentee blog!