Visit Hawk Mountain for the Autumn 2022 Migration Season
Autumn Hawk Watch Begins August 15
Posted on August 08, 2022 in Visitors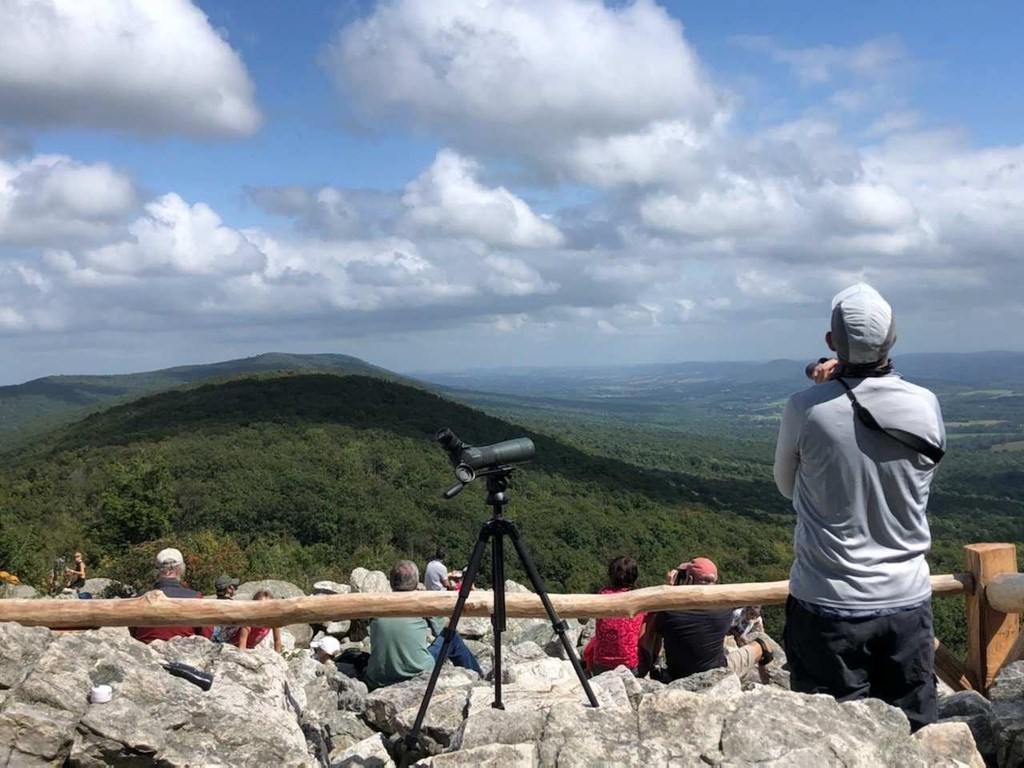 Visitors are invited to Hawk Mountain to view the annual Autumn Hawk Watch, which takes place daily from August 15 through December 15. Visitors can join the Sanctuary counters as they monitor the southbound raptor migration from the Sanctuary's famous North Lookout. Trail fees apply for non-members, $10 for adults, $7 for seniors, and $5 for children ages 6-12; ages 5 and younger are free. Members are admitted free year-round. Purchase trail passes here or learn more about a Mountain Membership here.

The beginning of the autumn migration season will begin following Hawk Mountain's annual Off to a Flying Start! migration kick-off event. Off to a Flying Start! celebrates the start of the season with a day full of activities for the whole family, including guided birding, naturalists in the Native Habitat Garden and at South Lookout, raptor ID, kids activities, and our signature Raptors Up Close program. The sold-out Birds and Brew will also take place that evening.

Throughout the count, Sanctuary staff, trainees, and volunteers will be stationed at the lookouts to help visitors spot and identify raptors, including broad-winged hawks, kestrels, vultures, ospreys, bald eagles, and more. An average of 18,000 raptors pass the Sanctuary each autumn. For raptor enthusiasts and those who cannot make it to Hawk Mountain, daily counts are posted throughout the season at hawkmountain.org/count.

Visitors are welcome to spend the day at the North Lookout to enjoy the incredible view as the raptor migrants pass overhead. Come equipped with binoculars and a full daypack to make the most of the day. Visitors with small children or limited mobility may prefer the nearby South Lookout, which can be accessed via the wheelchair-accessible Silhouette Trail.

This fall will also bring the entirely free Lecture Series, ADA Accessible Autumn Weekend Programs, including Raptors Up Close, Trapping and Tracking, the History of Hawk Mountain, and Name that Raptor to the Sanctuary, and a wide variety of other walks, talks, and workshops for all ages and interests. Browse our full program calendar at hawkmountain.org/events.