Fly into Fall with the Annual Migration Kick-Off
Posted on August 07, 2020 in Visitors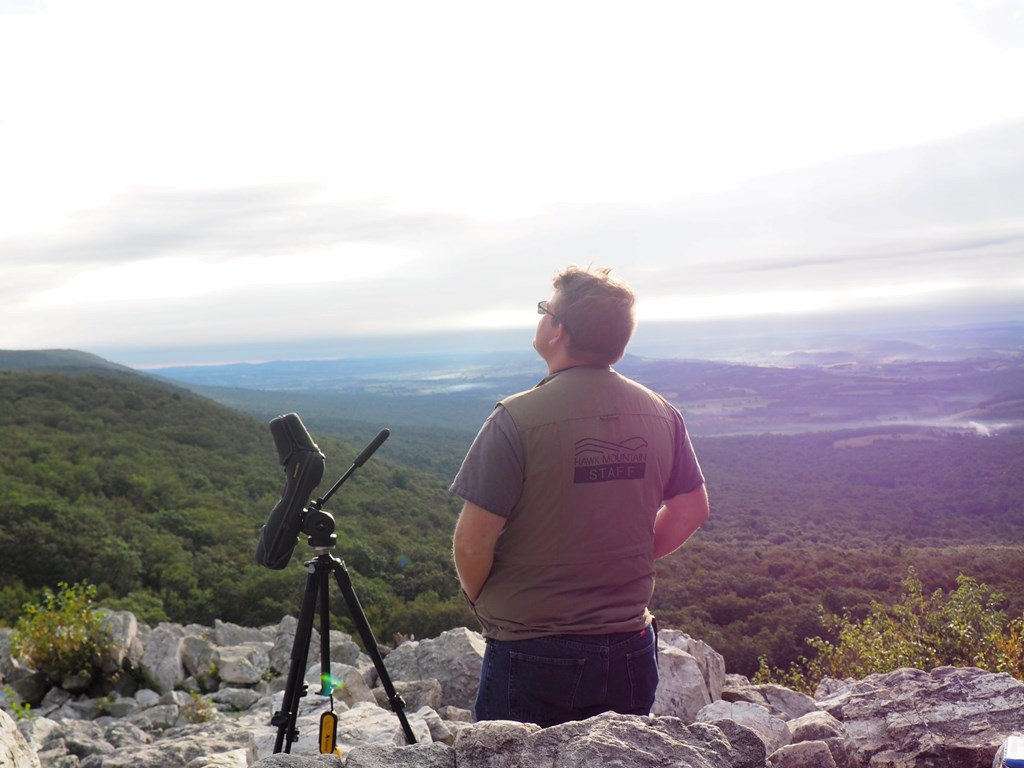 Hawk Mountain invites visitors to watch and monitor the annual passage of raptor migrants as they move south during the Autumn Hawk Watch, held daily August 15 through December 15, at the Sanctuary's famous North Lookout. Trail fees apply for non-members and cost $10 for adults, $7 for seniors, and $5 for children ages 6 to 12. Members are admitted free year-round, and memberships can be purchased online. At this time, the Visitor Center remains closed, and tickets can be purchased at hawkmountain.ticketleap.com.
Hawk Mountain will kick off the 2020 season with an open "house" celebration on August 15. The Off to a Flying Start kick-off event includes naturalists in the Native Plant Garden, Raptors Up Close! programs in the NEW Outdoor Amphitheater at 11 a.m., 1 p.m., and 3 p.m., raptor identification also at the amphitheater, and the annual Mountain Raffle drawing taking place at 2 p.m. A sidewalk sale of Hawk Mountain merchandise, inspiring history recap on the South Lookout, and an array of crafts and activities are also available for guests. All program locations are ADA accessible. For more information about the event and times of programs, visit hawkmountain.org/flyingstart.
During the count, Sanctuary staff, trainees, and volunteers will be stationed at the lookouts to help visitors spot and identify raptors, including broad-winged hawks, kestrels, vultures, ospreys, and bald eagles. An average 18,000 raptors pass the Sanctuary each autumn. For raptor enthusiasts and those who cannot make it to Hawk Mountain, daily counts are posted throughout the season at hawkmountain.org/count.
Equipped with binoculars and a full daypack, visitors are invited to spend the day at North Lookout to enjoy the breathtaking autumn colors and soaring raptors. The nearby South Lookout may be preferable to those with small children or with limited mobility, and it can be reached using the wheelchair-accessible Silhouette Trail.
Throughout the fall festivities, Hawk Mountain asks visitors to follow CDC guidelines and other recommendations about social distancing, including new guidelines for hiking etiquette. Wearing a mask upon entry and when passing others on the trails, maintaining six feet of distance, and coming prepared with hand sanitizer, water, and snacks, are all measures Hawk Mountain recommends to keep the safety and health of others a priority.
Virtual programming will also be available during the fall migration season to provide educational opportunities from the comfort and safety of your home! In addition, this fall will bring the entirely free Lecture Series, Discovery Institute workshops, and Homeschool Happenings programs on Wednesdays to the Sanctuary.