Wonderful and Wild: Volunteering at Hawk Mountain
Posted on in On the Mountain by Sandy Lockerman, long-time volunteerSandy Lockerman, long-time volunteer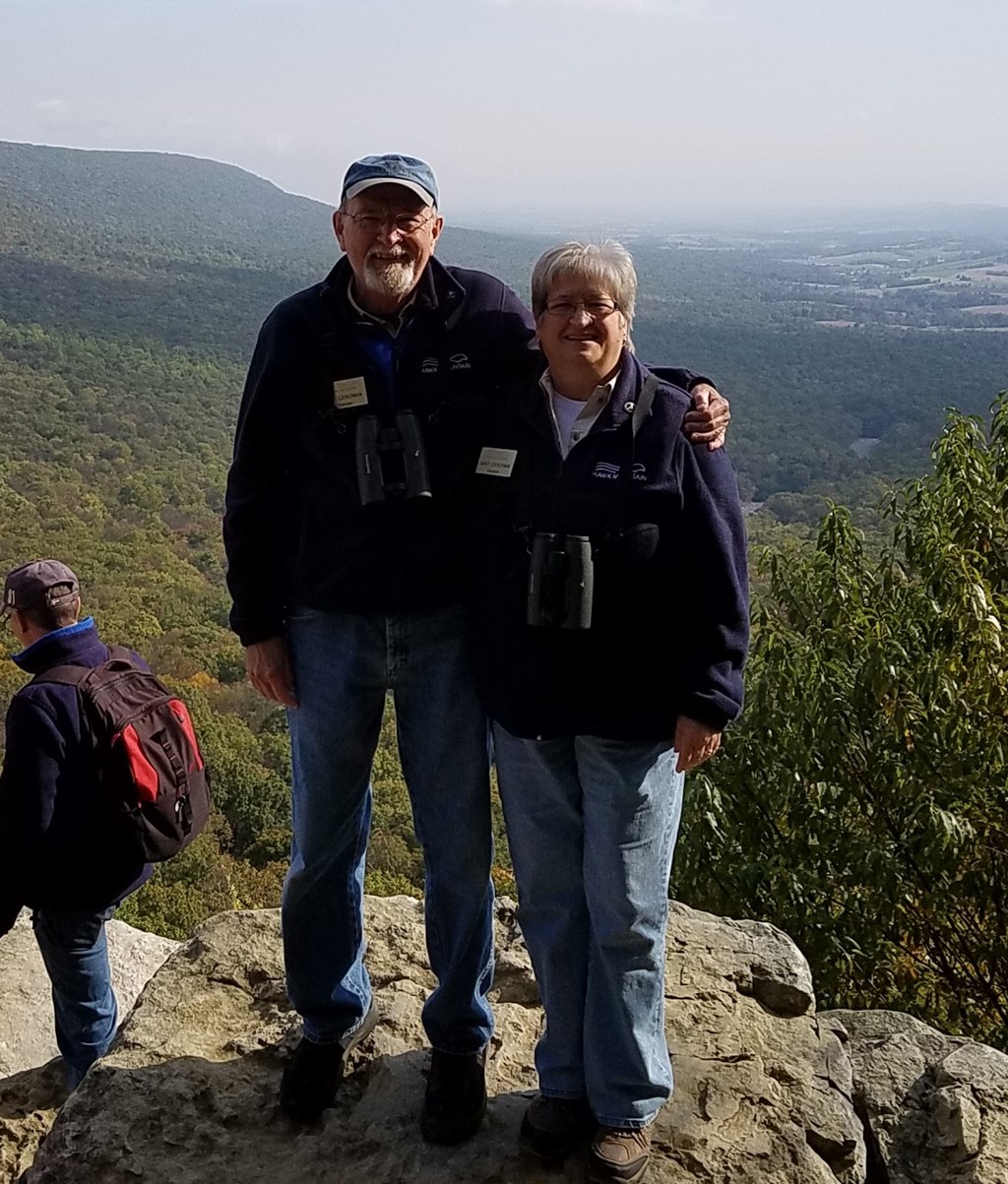 My husband and I started volunteering in the fall of 1991 and have enjoyed it, learned from it, and cherish all the memories that have been made during these 28 years.
I had been hawk watching for a couple of years with my husband, Gary, and we had joined Hawk Mountain as members. When I learned that there were volunteer opportunities, I thought it would be a great way to both be on the Mountain and to help educate the public. I had a degree in environmental education but was not utilizing it at that time. So after an interview with the then Volunteer Coordinator, Sue Wolfe, we settled in for what we never thought would be almost 3 decades of volunteering.
Our first job was at the Trail Entrance Gate, which at that time was where the admission fee was collected. It was an intensely foggy October day but visitors kept coming, paying and then disappearing into the fog on their way to South Lookout. It was great to greet the visitors and learn about where they were from and why they were coming to the Mountain.
When it was not the migration season, I would help in the Bookstore and Gary would tinker in the shop and do whatever Sue asked him to do, he even became a Greeter.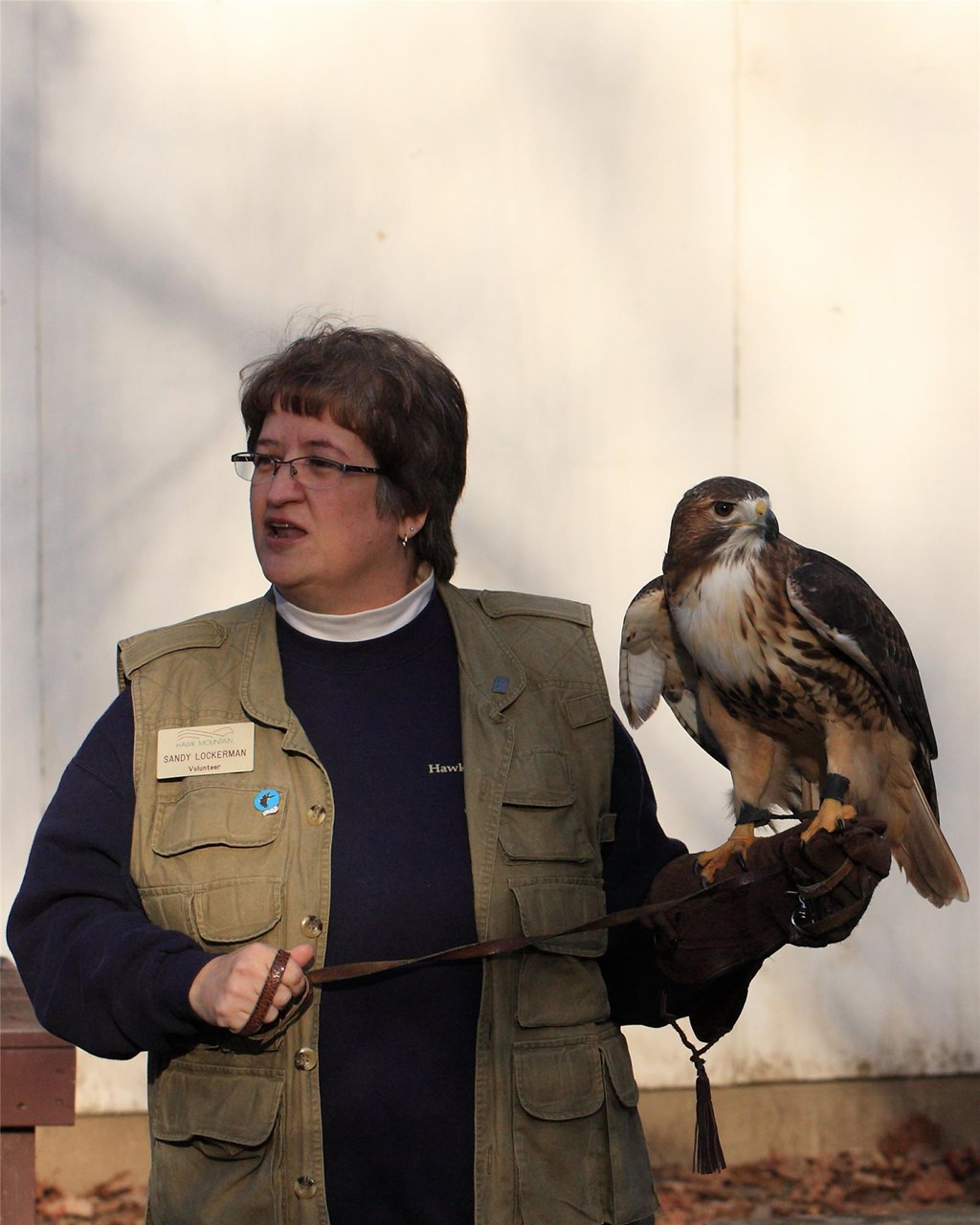 Soon, the education staff learned about my training and degree, and I moved into the programming aspect of the Mountain. I presented the History Talk, then the Name That Raptor Talk which was held at that time up at the Slide. Soon I settled into my present job presenting the Raptors Up Close Talk with the live non-releasable birds of prey.
By this time I had obtained employment as an environmental educator at Wildwood Park in Harrisburg. This is a park operated by Dauphin County. But I couldn't give up Hawk Mountain. There was a story to tell the visitors and I needed to help tell that story. I still do even now that I have retired.
I will always be in awe of the beauty and wildness of these raptors. They are educators, too and when the audience gets to see and hear about their adaptations and migration marvels, I know that I have given them a peek into a world that they only see from a distance. I worked with one particular red-tailed hawk for 21 years, she was a magnificent individual, and I tried at every talk to emphasis that species' role in the environment.
When I talk with new volunteers I try to emphasis to them that some of the Mountain's visitors only get to come there one time. And it is up to us to make that visit a memorable one. And to get to know the other volunteers is all part of the experience of the Mountain.
Another aspect of volunteering is getting to know the international trainees and interns who come to the Mountain. Seeing our country through their eyes, learning about their countries and learning about the work that they are going to carry on in their countries are all immensely rewarding.
If you get the opportunity to volunteer at Hawk Mountain Sanctuary, by all means, do it. Learn about the wonderful history, meet the knowledgeable staff and dedicated volunteers. You won't regret it.