Take a Trip to the Trails
Posted on in On the Mountain by Gigi Romano, Communications SpecialistGigi Romano, Communications Specialist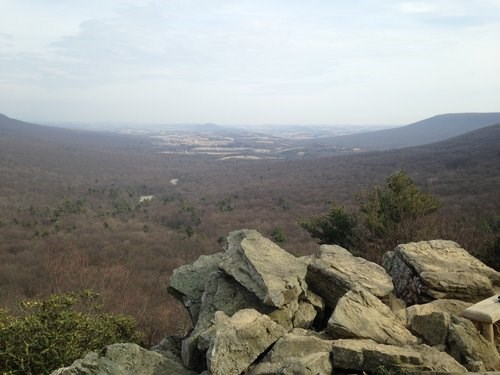 Unseasonably warm weather has arrived at the Mountain this week, beckoning visitors outside and to the trails. The snow and ice has melted for now, and with temperatures in the high 60s, it's the perfect opportunity to head outside for a day in nature.
Hawk Mountain's trails are open year round, but the first days of spring-like weather always cause a resurgence in visitation, filling the trails and lookouts with smiling faces turned to the skies. Resident birds and early migrants soar through the clear skies, delighting those perched on the rocks.
The change in the weather is not the only change on the Mountain! For the spring season, new raptor silhouettes have arrived on the ADA accessible Silhouette Trail. For the next several months, the one-of-a-kind metal silhouettes of 7 endangered raptors of Latin America will be on display along the meandering trail to South Lookout.
The chirping of birds at the Visitor Center feeders and sun warming the trails may trick us into thinking spring is here, but it's best to take advantage of this unusual heat wave while we can. We all know that PA winters are never over when we think they are!
Get outside and enjoy the warm weather! With mild temperatures and clear skies, there is no better place to be than among nature, soaking in the sun and the beauty of the outdoors.