Generations of Women in Conservation Inspiring Education at Hawk Mountain
Posted on in On the Mountain by Jamie Dawson, Director of EducationJamie Dawson, Director of Education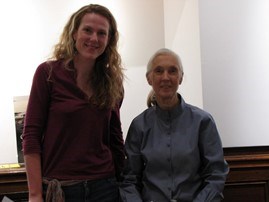 As a little girl, I grew up reading books about my hero, Jane Goodall. I idolized Jane's passion for manifesting her dreams of living in the wild, studying and protecting the animals that she loved so fiercely. I, too, dreamed of living at peace with the natural world and making a BIG positive difference to protect and save wildlife, just like Jane. Jane was a pioneer of her time, a fearless female conservation science crusader in a male-dominated world. Reading about how Jane persevered to overcome her professional challenges and hardships strengthened my resolve to succeed even when hurdles of self-doubt surfaced, especially during my first independent field research project studying wild howler monkeys in Belize. I remember trudging through the thick steamy jungle searching desperately for signs of the wild troop I was trying to locate for my study. I tried to swallow down the panicked waves of discouragement as days passed and I was still unable to find them. In my hopelessness, I remembered that Jane felt the same way when she was first searching for wild chimpanzees in Gombe National Park. She felt utter failure after six months had passed and she had not yet seen one chimpanzee. Just when she felt completely defeated, she had her first unexpected break through, a close encounter with the now famous chimpanzee, David Greybeard. The rest is conservation history. And, just as I was accepting defeat in my quest to find the elusive howler troop in the Belizean jungle, I was startled as a mysterious brownish-orange moist blob dropped from above and splattered onto a page of my open field notebook that I held in my hands—yup, it was poop. I slowly looked straight up high into the canopy and, as I strained my eyes to discern shadow from shape, there, directly above my head, was the troop! Never give up on your dreams.
I had always been an enthusiastic fan and admirer of Hawk Mountain, long before I became fortunate enough to call the sanctuary my workplace. With totally awesome trails, breath-taking views, and magnificent raptors—what's not to love?! But, when I discovered that Rachel Carson, another female conservation warrior who I place on the highest pedestal, utilized data from Hawk Mountain's long-term raptor migration count to deduce the link between the once commonly used pesticide DDT and dangerous declines in eagles and peregrine falcons through her ground-breaking book Silent Spring, my respect for the sanctuary skyrocketed to new heights. Silent Spring not only lead to the ban of DDT in the United States, but it is also credited with spurring the environmental movement leading to the creation of the Environmental Protection Agency. What an amazing contribution to conservation with boundless ripples of positive impacts not only for raptors, but for entire ecosystems and beyond. Now that is truly making a difference! And guess what, Hawk Mountain was founded by Rosalie Edge—a WOMAN—in 1934. That, too, is truly remarkable.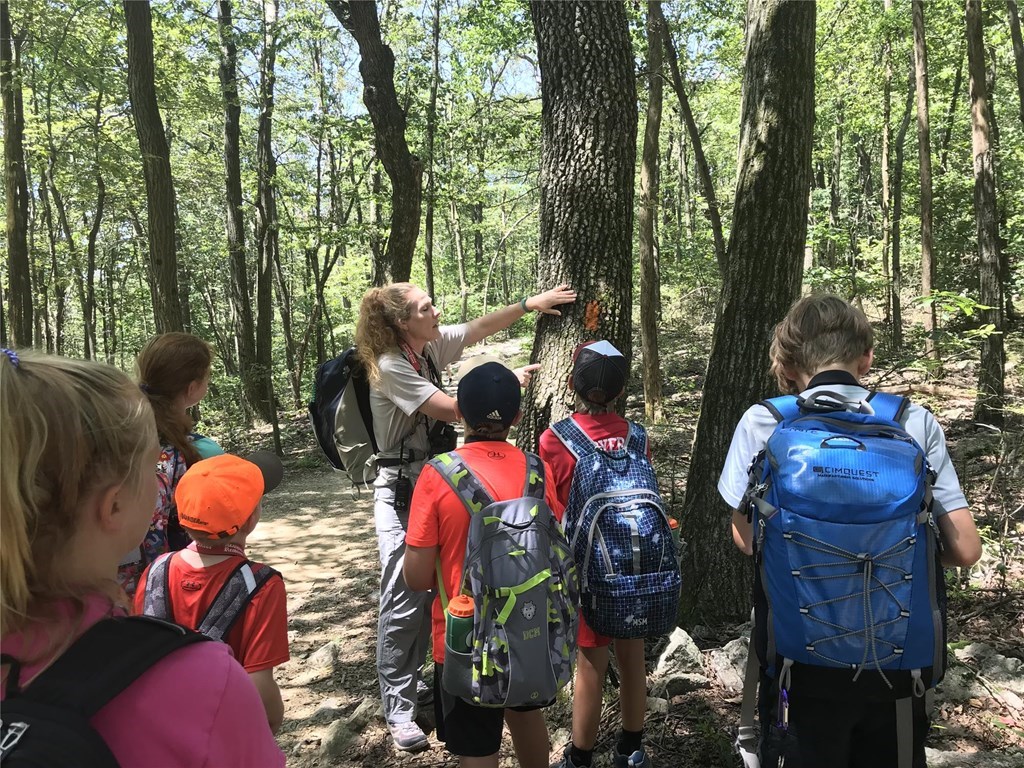 As a new hire in 2018, I dove into Hawk Mountain literary classics, such as Broun's Hawks Aloft and Furmansky's Rosalie Edge, Hawk of Mercy to learn as much as I could about the history of the world's first refuge for birds of prey—a place that I am so very proud to be a part of. Reading the story of Rosalie's courageous journey to establish Hawk Mountain Sanctuary during an era when hawk shooting was a popular sport in a masculine-run world moved me deeply at an emotional level. Here was yet another female force of nature accomplishing seemingly impossible feats, against all odds, in the name of conservation. Rosalie Edge was an indomitable conservation heroine.
I remember presenting one of my first education programs to a school group in the gallery of Hawk Mountain's Visitor Center. I stood before the students holding up large black and white historical photos depicting the story of the Sanctuary's genesis. Just as I was holding up the photo of Rosalie Edge dressed in her 1930s high-class attire with a long skirt, dress jacket, hat, elegant white gloves, fashionable dragonfly brooch, and a large hawk perched on her arm, I glanced up into the bookstore balcony of the gallery. There, behind the railing, stood Rosalie's granddaughter Deborah Edge, watching my presentation. I was star-struck to be in the presence of such a conservation legacy. I took a breath, smiled, and continued telling the students how Rosalie turned an infamous shooting ground into a renowned Sanctuary that has grown to be a global leader in raptor conservation, science, and education. My hope that in hearing this true story and experiencing the magic of the mountain, youth are empowered with the conviction that they too can make a positive difference and find the strength to stand up for what they believe in and protect the natural world, just like Rosalie.