Finding My Feathered Flock
Posted on in On the Mountain by Paula M. Orozco Valor, 2022 Conservation Science TraineePaula M. Orozco Valor, 2022 Conservation Science Trainee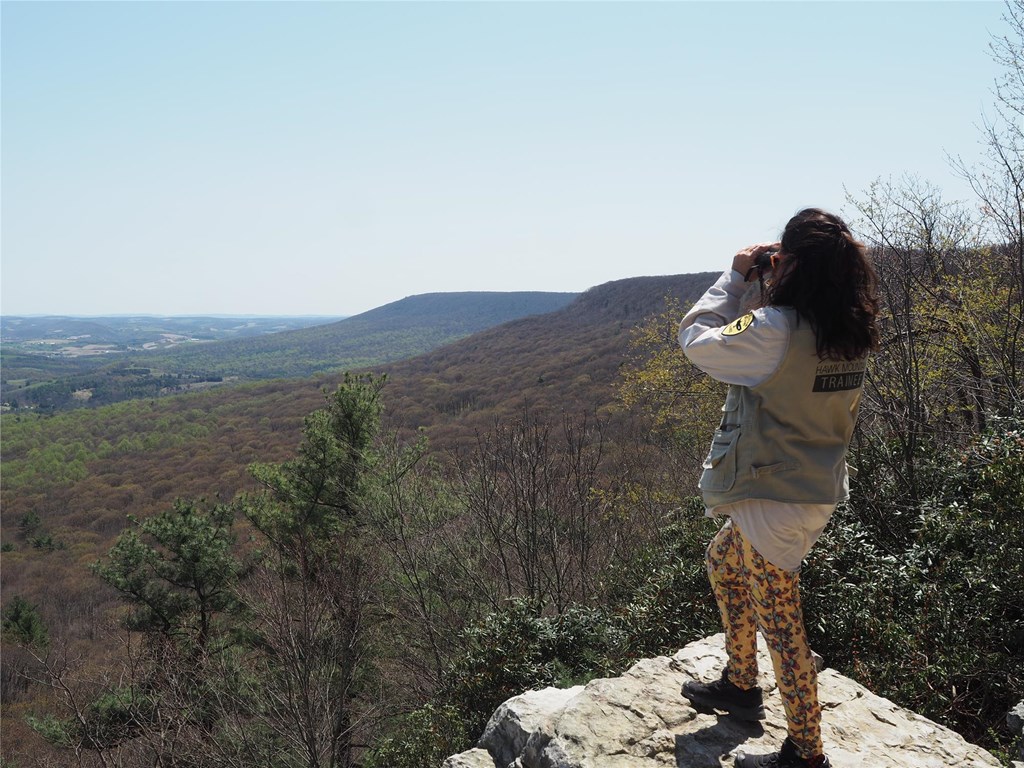 I have always enjoyed wildlife and outdoor activities, and I like to think that this was the reason I choose to become a biologist. During my career, I didn't decide to work with feathers immediately. I wanted to work with furry predators, especially fanged carnivores. I think everyone that knows me at least a little bit knows my favorite mammal, which is the most beautiful Canidae to me, the Aguará guazú or maned wolf. However, my passion for birds and birds of prey started to grow during my undergraduate career.

A friend of mine and former Hawk Mountain trainee Fernando Lopez was assisting a university professor in monitoring the reproduction and behavior of the house wren in nest boxes in a semiarid forest. At first, I didn´t join him in assisting the professor during the fieldwork, but eventually, I was intrigued by the things that Fernando told me, especially because they were able to see birds up close. So, I decided to join in on the activities, and I enjoyed it! I was truly fascinated with all the different birds I got the chance to know. My devotion to birds is especially thanks to the field technician, Miguel Santillán, who was assisting the professor. He was very passionate about birds and nature, and his passion was infectious to the students. He transmitted his enthusiasm to me, making me fall in love with birds even more. During long journeys in the field, we learned a lot about birds while also having a lot of fun. I continued helping during winter with lab activities and returned to help the next breeding season. During this field season, I heard that a new researcher was working with raptors and needed someone to assist him in the field. Of course, I was immediately willing to help because I wanted to learn more about birds.
The opportunity to work with raptors really caught my attention because they are not mammals, but they are still predators. So in that year, I managed to continue working on the weekend with passerines, take my classes, and assist the person who has become my supervisor for the last 8 years. Juan M. Grande is truly a bird and raptor lover who has taught me a lot during my career and especially my Ph.D. and postdoctoral research. He was also working with nest boxes but with a special and amazing species, the American kestrel.

The study was a long-term monitoring program to evaluate the possible effects of intensifying agriculture on birds of prey. Kestrels are tiny, ferocious, and one of the most colorful falcons. Who wouldn't want to work with them? This was one was my first experiences with birds of prey, but that was all I needed to make up my mind and decide that I wanted to work with raptors. I also participated every time I could in the fieldwork of different projects, doing road surveys and capturing and banding different Neotropical raptors. Nowadays, I still try to be involved in different projects, but my main research is still based on the American kestrel. My goal is to continue working with birds of prey and different topics that I found interesting. I really would like to continue working with kestrels in Argentina.

Being able to make a living with the things you most enjoy is not always easy, but for me working with birds of prey, has always been a super gratifying experience. The reality is that I am still trying to find my path in science, which of course is not an easy path, especially nowadays. I feel really lucky because the world of raptors has allowed me to meet wonderful, passionate, and humble people doing conservation. I have experienced new adventures, like becoming a trainee at Hawk Mountain Sanctuary, a perfect place to learn more about raptors. Here, I have been able to learn about migration, an amazing process and new topic for me. I have also learned about other raptors species and the many science and educational projects that are in development at the Sanctuary. Moreover, I feel so lucky to collaborate and work with kestrels in other parts of their wide distribution, trying to elucidate the possible causes of their decline. For me, the most important part of this traineeship was—as the wind piled us up—amazing people with whom I share the same passion for wildlife. They have made this traineeship a lovely and fun adventure, and they will always be a part of me, just like feathers will always find a way to continue being a part of me, too.