Educating Through Art and Nature
Posted on in On the Mountain by Tamara Russo, Spring 2022 Conservation TraineeTamara Russo, Spring 2022 Conservation Trainee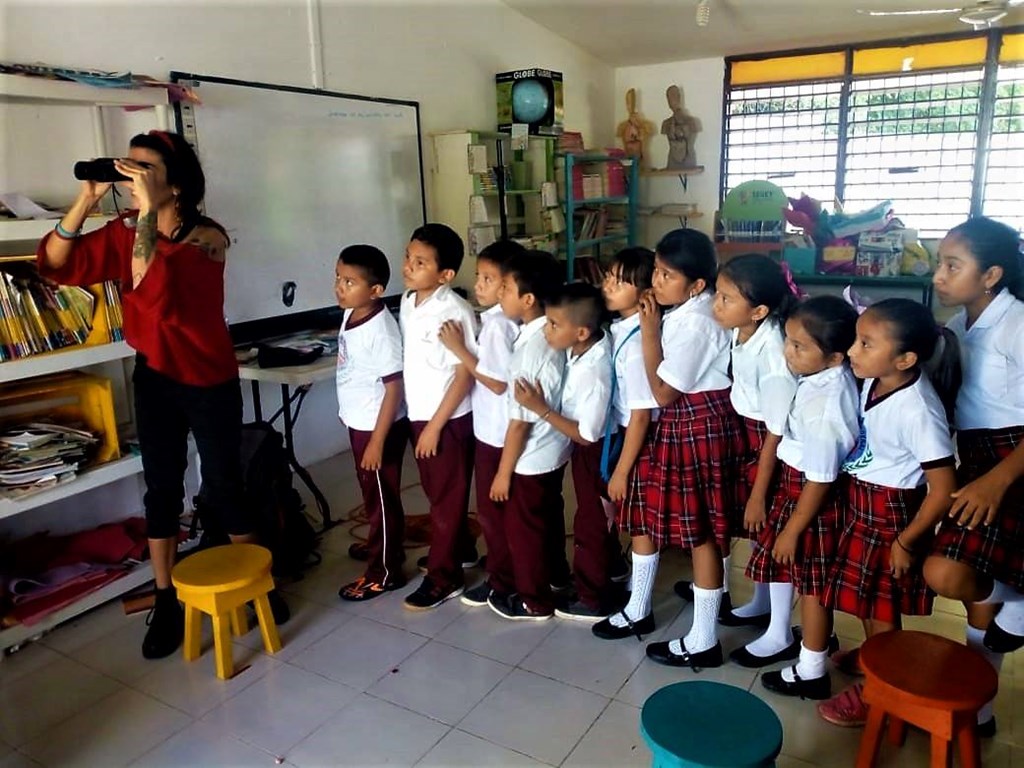 My name is Tamara, and I'm from Argentina, but nowadays, I live in México. Birds arrived in my life seven years ago, but they weren't in my plans. They arrived in my life in an unpredictable and magical way.
I was traveling in Colombia with a friend when we decided to visit an island called Baru in Cartagena. While I was exploring the island, walking through those tropical streets, I found the National Bird Park. I was guided by the screams of the macaws to this impressive and huge place. I still hold the first impression that I got from this park in my heart because this experience changed my life's path. I went to the park several times to offer my time as a volunteer. I found myself determined in this mission when they finally gave me the chance to stay there and learn about birds. So, my tropical trip became a feathery trip.
I met more birds than people there, but I also met the first person that taught me about birds, who has become a close friend. I started to assist the veterinarians and learn as much as I could about this new world of birds. I was fascinated by their behaviors, their colors, their songs, and the diversity of this group of animals. The people of the aviary gave me the chance to start environmental education programs for school groups from local communities, and my passion continued to grow. I studied art history in Buenos Aires, Argentina, so I found it important to use those skills I learned in environmental education. The arts can work as a key to sharing the message of conservation; they can make the process of learning more fun and diverse!
From this experience, birds became part of my life. I started to bird every place I visited, including Panama, Guatemala, and México. In 2018, I became part of a sustainable community on the Peninsula of Yucatan, where I learned the importance of living in a harmonious way with our ecosystem. There, I developed a project, giving all my abilities and passions to this community. I started to co-create a department of environmental education, and my co-worker Dali and I organized a birding group for children. We gathered a fabulous group of kids and met two times a week to share our love for nature through birding. This experience was amazing for me!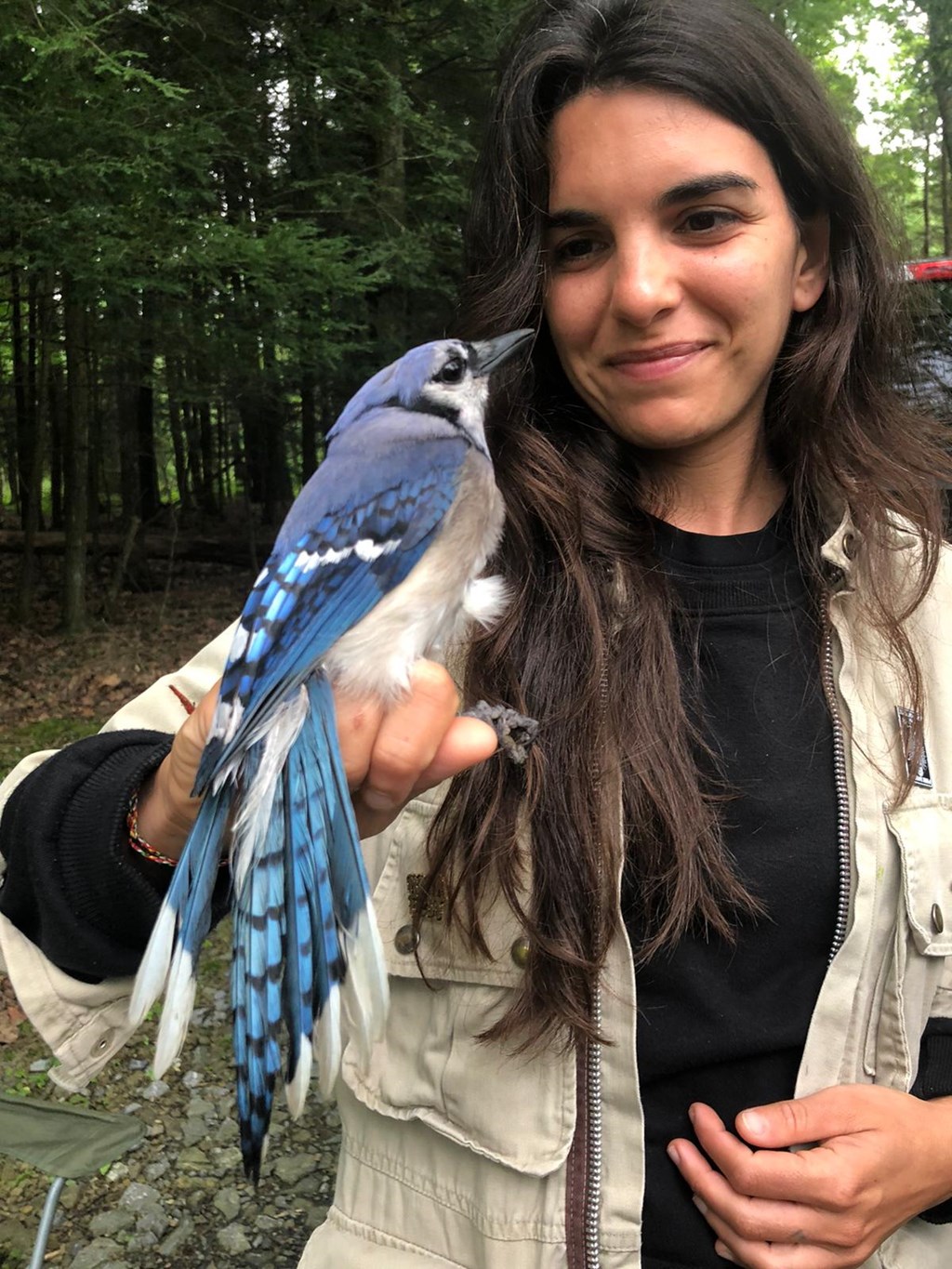 Since I first arrived in México, my heart races every time people mentioned the River of Raptors in Veracruz. While birding, the raptors are more elusive, so the idea of seeing thousands in the sky at the same time blows my mind. I visited Veracruz once, and that was enough for me to know that I want to be part of it.
With the same determination, I applied and worked as an environmental educator in the 2019 fall season. I felt—and am still feeling—close to these migrants of the sky because migration is also a part of my life. At the River of Raptors, I learned about the importance of the migratory corridor for these beautiful birds and the importance of collaboration between projects. That's how I discovered Hawk Mountain Sanctuary.
It was in December of 2019 when Jamie, the Director of Education at Hawk Mountain Sanctuary, gave me the confirmation to join the Spring 2020 class of trainees. I arrived at Hawk Mountain Sanctuary in March 2020 and for me, it was like a dream coming true. But in the same moment, something stopped the entire world. The pandemic was global, and with tears in our eyes, we had to leave the traineeship, and I had to go back to México for everyone's safety.
It was a hard, frustrating moment, but I knew the birds would keep migrating, so I couldn´t give up! I persisted, and finally, I arrived at Hawk Mountain Sanctuary where I am now. For me, this experience is amazing. I feel so empowered. My hope is stronger. The history of this place has inspired me, especially when I learned of the efforts that began in 1934 and have continued since. I strongly believe that people sharing the same ideals can make huge changes in history.
Back in México, I will be waiting for the feathered migrants of my heart in Veracruz. There, I will manage the hawk watch site observatory and will continue to share my passion and hope for bird conservation. I aim to continue expanding our necessary connection with nature through these amazing owners of the sky.
Through birding, art, and education I want to spread the importance of taking care of the corridor for these migrants. I would like to continue growing this community of conservationists in a diverse and inclusive way. Nature needs us all together – the neighbors, the kids, the musicians, the scientists, the educators, the legislators, and the farmers. We are again faced with a historical moment when nature, our common house, needs us all together to build strategies and knowledge to keep our world safe for all species, including humans. We can, and we are, doing it!