Across the Pond with Raptor Care Rock Star
Raptor Care
Posted on in On the Mountain by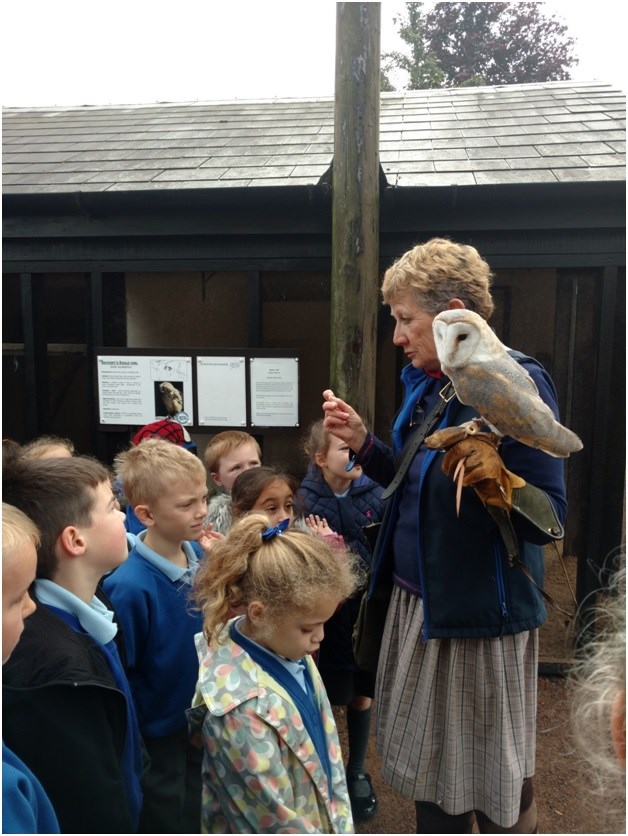 Jemima Parry-Jones and barn owls.
Nearly a decade ago, Jemima Parry-Jones (JPJ), Director of the International Centre for Birds of Prey (ICBP) located in Newent, Gloucestershire, United Kingdom, answered an e-mail I sent to her hoping to gain insight on captive raptor management. Not only did JPJ promptly and thoroughly respond to my questions, she insisted that I visit her facility. With the generous support of Hawk Mountain Sanctuary friends Brian and Sandra Moroney, I completed my educational journey across the pond earlier this season to benefit our feathered educators and the volunteers and staff who work together to maintain best practices in raptor care management at Hawk Mountain. Education raptors help to connect learners of all ages to conservation with an up-close look at species that serve a vital role in our ecosytems worldwide.

Located in the quaint English countryside, ICBP oversees nearly 300 birds of prey, including a diverse workforce of owls, eagles, vultures, kites, hawks, falcons, and harriers. During my stay, I was treated to a grand tour of the entire facility. Open to the public 7 days per week, 10 months of the year, visitors have the opportunity to see raptors on display in a zoo-like static setting and during multiple free-flighted training sessions throughout the day. During these flying demonstrations, ICBP trainers connect visitors of all ages to a fast-paced, exciting look at natural history in action.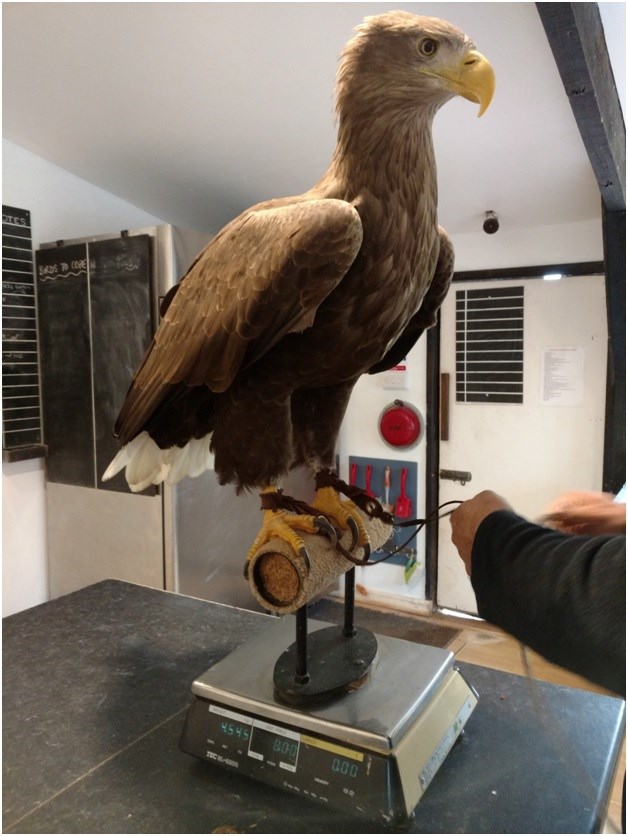 Jemima Parry-Jones and barn owls.
One highlight of my visit was participating in training several yellow-billed kites by cuing birds to fly over the field in front of visitors and signaling them to return, tossing meat straight up in the air to emulate their natural behavior of grasping prey in flight. Although I do not consider myself athletic, there's nothing like being watched by countless visitors who are glued to your every move while one of the most famous falconers in the world is narrating and evaluating your meat throwing abilities. With the supportive direction of JPJ, I felt like an Olympian.
In addition to shadowing the husbandry and training of some of the world's largest and endangered raptors, I learned new techniques and skills to improve communication through body language and clear cues when working with animal colleagues. While working with a massive white-tailed sea eagle, I honed my ability to remain perch-like to provide a stable and trustworthy roost. If you see me lifting weights, you'll understand why I want to build and maintain a strong and stable resting place for a bird who weighs over ten pounds.


Sadly, when visiting the on-site rehabilitation hospital building, I learned more about real-time conservation challenges like the direct persecution of raptors in the community. Unlike North America, migratory birds are not legally protected and are perceived as competition for resources such as small game. I had the opportunity to meet with law officials who were inspired by Hawk Mountain Sanctuary's rich history thanks to pioneer conservationists like Richard Pough and our own founder, Mrs. Rosalie Edge.


On this side of our shared Atlantic Ocean, I remain proud to represent the world's very first refuge for birds of prey and to help advance our mission by sharing our story and the need for continued research and education worldwide.