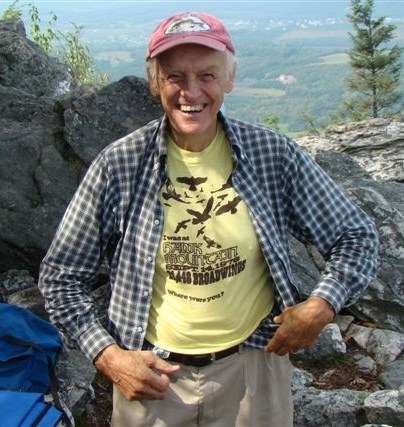 Some people simply embody the spirit of Hawk Mountain, and such was the case with Warner Berthoff. Warner first visited the Sanctuary in the 1960's, and returned, year after year, to soak in the view from North Lookout, chat with his Mountain friends, and enjoy the flight, which with any luck included good kettles of broadwings.
It was in the late 60's that he met "Broadwing Charlie" Gant, who would become a life-long friend. "In 45 minutes, my dad learned more about broadwings than he could have read in a year of book learning," laughs his daughter Rachel. The two hit it off and, going forward, always met at Hawk Mountain each September.
Dr. Laurie Goodrich, who coordinates the count and spends much time at the lookouts, recalls that Warner would coordinate by phone to make sure the two arrived on the same day, which may have been the only time they saw one another all year long.
"Warner would always arrive first and ask, 'where is he?' and 'did anybody see him yet?'" Laurie laughs. "Then all of a sudden Charlie would show up, and all would be right in the world. They'd settle in on the north side under the trees and talk non-stop, even when the birds started to move. They'd look up at the birds, and then go back to talking," she says.
And so the years passed, with Warner making the 340-mile ride to Hawk Mountain to climb the North Lookout. He made his last hike in 2016 at age 89 with his son and daughter at his side.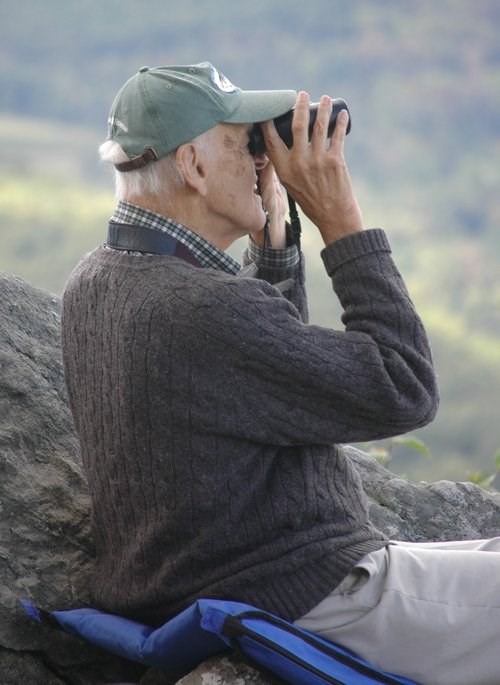 "He easily could have watched broadwings from Massachusetts, but he always came back here," says Laurie, who looked forward to his annual arrival as much as anyone.
Warner died on August 28, 2018, but he lived a full and beautiful life. He was a professor emeritus at Harvard University, where he taught English and American literature for more than 20 years. He was a brilliant thinker and sought-after academic whose visiting professorships took him from Sicily to Berkeley to Poland and beyond. He enjoyed his friends and family, along with many other hobbies and interests. Hawk-watching was but a small slice of his life, but it's the one we knew and loved.
Like others, Warner demonstrates that Hawk Mountain isn't just a place on a map, but a community of friends brought together by a love for this place, the birds overhead, and the work we do. He reminds us that Hawk Mountain is truly a sanctuary, not just for wildlife, but also for the soul.
We thank Warner for sharing more than 50 years of friendship, and his family for sharing him.