Native Plant Sale on May 19-20
Posted on May 12, 2018 in Visitors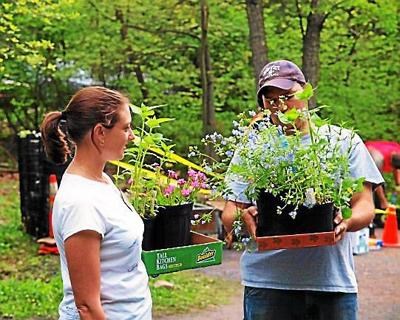 Hawk Mountain Sanctuary will host its annual Spring Native Plant Sale, displaying a wide variety of Pennsylvanian plants and flowers, on Saturday, May 19 and Sunday, May 20. It will take place in the Visitor Center parking lot from 10 am to 4 pm. In addition to the sale, visitors can browse the gardens and chat with garden volunteers for free. The sale is open to the public, and all proceeds benefit Hawk Mountain's conservation and education programs.

The sale will feature nearly 300 species of Pennsylvania native wildflowers, vines, grasses, ferns, shrubs, and trees. The Sanctuary's group of garden volunteers will help visitors select which plants are best for their home landscape. The volunteers will also help make the sale enjoyable, educational, and as convenient as possible; they will carry purchases to buyers' cars, store them until the end of the day's visit, and offer great gardening tips. The bookstore also offers a year-round selection of native plant gardening books for those interested in learning more.

The two-acre wide Hawk Mountain Native Plant Garden is located just next to the Visitor Center and trailhead entrance, and it holds a vast variety of plant species that attract more than 40 species of butterflies and countless birds. There are ponds abundant with wildlife and surrounded by discreet seating areas to encourage lingering. The garden volunteers work to tend and improve the garden year-round in order to propagate the best natives for the sale.