Hawk Mountain announces 2020 Winter Artisan Series
Posted on January 08, 2020 in Visitors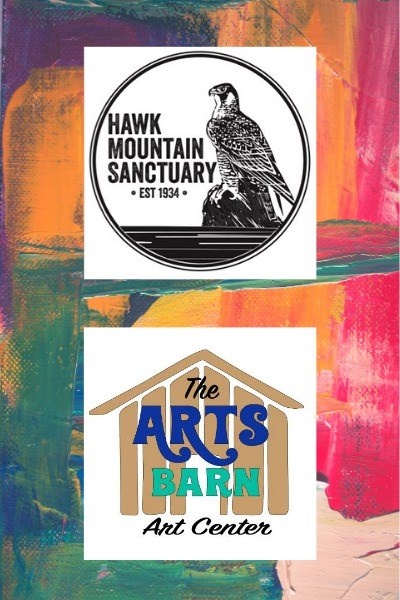 Friday, January 17 will kick off the Hawk Mountain Winter Artisan Series with a Winter Paint & Sip event, presented by Heather Butler. This is the Sanctuary's first year hosting a winter artisan workshop series, and it is proudly presented in collaboration with The Arts Barn in Schuylkill Haven.

This year's line-up features a range of creative, artistic endeavors from paints and sculpture to skin care and home décor. There are events for every skill level and type of project, thus ensuring there is an event for everyone to enjoy. All workshops take place in the Hawk Mountain Education Building and require registration at hawkmountain.ticketleap.com.

The 2020 Winter Artisan Series schedule is as follows:

Winter Paint & Sip
Friday, January 17, 6 pm
At Heather Butler's paint and sip party, all ages and abilities are welcome to sip a beverage of their choosing, including wine for those over 21. Participants are encouraged to relax, have fun, and paint something beautiful on the provided 11x14 canvas.

Big Bird, Little Bird Painting Workshop - Saturday Series
Saturdays, January 18, 25, February 1, 8, 12:30 pm
Karen Stafford presents three Big Bird, Little Bird painting workshops this season, each spanning four days over four weeks. Participants will spend two days painting the American kestrel, and another two painting the red-tailed hawk. This workshop is for artists of all skill levels, with a mounted bird for the reference of experienced painters, and tracing and instruction available for beginners. The first day of each series also offers a meet and greet with a live raptor for inspiration.

Big Bird, Little Bird Painting Workshop – Wednesday Series 1
Wednesdays, February 5, 12, 19, 26, 12:30 pm

Big Bird, Little Bird Painting Workshop – Wednesday Series 2
Wednesdays, March 11, 18, 25, April 1, 12:30 pm

Essential Oils Workshop
Saturday, January 25, 1:30 pm
Katlyn Bender is helping attendees relax with the help of essential oils in this spa day workshop. Participants will be informed on the use of oils for self-care, making some DIY essential oil items, and enjoy essential oil infused food and drinks.

Paper Flower Workshop
Friday, February 7, 6 pm
Wendy McLean, founder of North Elm Designs, is taking students under her wing to teach about the hottest trend in home décor, paper flowers. Participants will receive step-by-step instruction from Wendy on creating their own giant paper flower to take home and spruce up their living space.

Partner Paint
Sunday, February 9, 1 pm
Instructor Alyssa Palina will help participants and a partner of any skill level create a beautiful work of art and lasting memories in this fun workshop. Attendees will create a Hawk Mountain-themed painting to take home and share as a memento.

Coffee Painting
Saturday, February 15, 1 pm
Dave Hughes, owner of Deer Trail Studio is sharing his knowledge of painting using everyone's favorite morning pick-me-up, coffee. In addition to coffee painting tips, Dave will teach attendees about how coffee consumer choices impact conservation and wildlife worldwide. Coffee drinks and martinis are available for those over 21.

Spring Wreath Making Workshop
Saturday, February 22, 1 pm
In this introductory wreathing class, Bekka Patten will teach attendees the ins and outs of wreath design, from assembly to layering. Either floral or succulent wreaths are available to workshop-goers, making this a one-of-a-kind decoration. All skill levels are welcome to join Bekka in welcoming spring through design.

Intro to Loom Weaving Workshop
Sunday, February 23, 9 am
Lorraine Felker will teach members of this workshop the basics of loom weaving on a rigid heddle loom. All participants will come away with a finished wool cowl or scarf to keep frigid temperatures at bay this season.

Wire Tree Workshop
Saturday, February 29, 1 pm
Mark Golomb handshapes and twists 100 18-inch wires into the form of one of several trees for students to choose from. Attendees will paint their wire tree and mount it in a granite base, then take the fruit of their labor home to display.

Feather Painting Workshop
Sunday, March 1, 1 pm
Heather Butler joins the Winter Artisan Series again to help participants paint a flower scene on a beautiful parrot feather after meeting with a live parrot for inspiration. While some painting experience is recommended, all skill levels are welcome to join this unique workshop.

Alcohol Ink Workshop
Saturday, March 7, 1 pm
Danielle Beury will teach students to paint simple diagonal and dot shapes on two 6x6 tiles using vibrant alcohol inks. Participants can leave their tiles with Danielle to be sealed or take them home to seal themselves.

Flow Art: Acrylic Pouring Workshop
Sunday, March 8, 2 pm
Using a chain and strainer, Wilfrieda Axsmith will experiment with pupils making art using fun acrylic pouring techniques. All skill levels are welcome to join this class, and all participants will leave with two works of art to take home.

Bath Bomb Workshop
Sunday, March 15, 1 pm
Jennifer Pothering will reveal the secrets of everyone's favorite bath accessory: the bath bomb. With a variety of scents, colors, botanicals, and additives, Jennifer will teach students to make their own bath bombs. Each participant will make a batch yielding around 9 small or 4 large bath bombs to take home.

"Spring Cleaning" Essential Oils Workshop
Sunday, March 29, 2 pm
Katlyn Bender returns to Hawk Mountain to share her essential oils knowledge, this time using Thieves, a powerful, versatile and cost-effective oil. This class will teach attendees to use essential oils as ingredients in natural cleaners and includes two take-home items.

Spring Paint and Sip
Saturday, April 3, 7 pm
Heather Butler is back again to teach and finish the Winter Artisan Series strong with another Paint & Sip event. Participants are sure to have fun while sipping their wine and painting a nature-themed masterpiece.

Anyone interested in the events listed may visit Hawk Mountain's website to register. For information on other upcoming events for winter, visit hawkmountain.org/events.