Get Creative with the Return of the Winter Artisan Series
Posted on January 31, 2022 in Visitors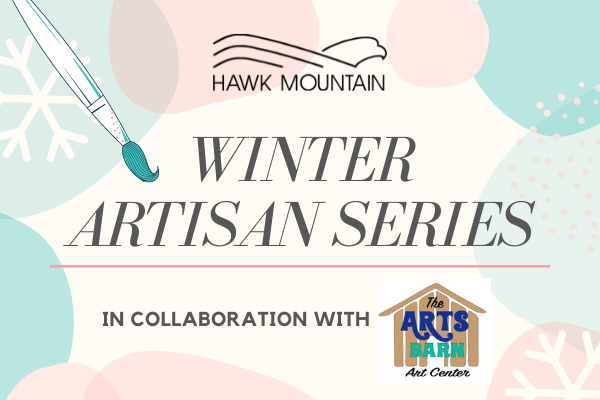 Saturday, February 5 will kick off the Hawk Mountain Winter Artisan Series with a Paper Quilling Class. The Sanctuary is thrilled to be partnering once again with The Arts Barn in Schuylkill Haven to present an array of hands-on artisan workshops instructed by talented professional artists.
This year's line-up features a range of creative, artistic endeavors including paintings, mosaics, and candles. There are events for every skill level and type of project, thus ensuring there is something for everyone to enjoy. All workshops take place in the Hawk Mountain Education Building, which is ADA accessible, and require registration at hawkmountain.ticketleap.com. All classes are limited to 12 participants.
Hawk Mountain prioritizes the safety of all patrons and staff and encourages best practices during the pandemic in accordance with the CDC guidelines, regardless of vaccination status, including social distancing and wearing masks, especially during inside programs or visitation.
The 2022 Winter Artisan Series schedule is as follows. Prices, details, and registration links can be found at hawkmountain.org/WAS.

Paper Quilling Class
Sat, Feb 5
Coffee Painting
Sat, Feb 12
Mountain String Art & Painting
Sat, Feb 19
Kid's Pour Paint Class
Sat, Feb 26
Mosaic Celtic Cross Class
Sat, Mar 5 & Sat, Mar 12
Fox Canvas Painting
Sat, Mar 13
Candle Making
Sat, Mar 19
Feather Painting
Sat, Mar 26
Dreamcatchers Workshop
Sun, Mar 27
Wire Tree Workshop
Sat, Apr 9

Anyone interested in the events listed may visit the Winter Artisan Series webpage or hawkmountain.ticketleap.com to register. For information on other upcoming events for winter, visit hawkmountain.org/events.