Accessible Trail at Hawk Mountain
Posted on April 02, 2015 in Visitors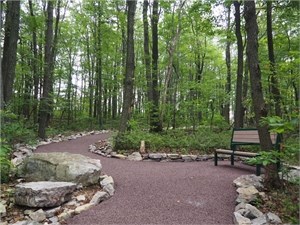 Hawk Mountain in July 2015 opened its first Accessible Trail to the nearby South Lookout. This project was made possible thanks to financial support from the Pennsylvania Department of Conservation and Natural Resources, the Berks County Commissioners through the Community Development Block Grant Program, the Schuylkill County Commissioners, the Pennsylvania Department of Community and Economic Development, and individual donors Alfred A. Douglass III Family and Cyrus Klingsberg. Details include:

The trail is 900 feet long with a grade of less than 8.3 percent, below the federal recommendations for national parks. Most areas are less steep, and overall, the trail averages an 8 percent grade.
Bench seating with pull bars in the middle of the seat are located at least every 100 feet.
The trail connects to the Laurelwood Niche, a secluded area for education programs. This educational area is also accessible OR can be used to rest or lunch. We follow a pack-in, pack-out policy.
The South Lookout includes a smooth, flat, and natural viewing area with one bench with pull bar. Nearby are two additional benches that offer a place to rest. Binoculars are recommended at all Lookouts and are available for rent in the Visitor Center.
Trailside restrooms are located near the trailhead entrance and also are ADA compliant. A bench is located near the restrooms.
Trail finish is pressed pebble. After one year this finish will be repressed and excess pepples collected. Note that until this step is complete, the pebbles can pose a problem to people using walkers.
A motorized scooter is available on a first-come, first-serve basis in the Visitor Center.