Global Big Day: Building Community Through Birds
Posted on March 29, 2019 in Special Projects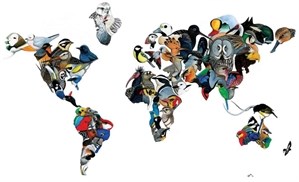 There is currently growing awareness of a global citizen science project called eBird, initiated by the Cornell Lab of Ornithology (CLO) in Ithaca, New York. eBird intends to increase our understanding of bird species around the world, based on sightings lists submitted by enthusiastic experts, novices, and everyone in between. The resulting database is available to everyone and has been used in a variety of scientific publications. In 2015 CLO created an event called the Global Big Day as a way of promoting eBird and encouraging participation in birding as an environmentally beneficial activity. This year on May 4th, over 30,000 people will participate in the event, some for 10 minutes and some for 24 hours. Every minute counts, and every minute helps. The registered species sightings from this event have led to greater scientific assessments of global bird populations. In addition, many countries have experienced growth in cultural positivity around birding, and, through extension, spending time outside.
For those of you who have birded before, whether it be a 24 hour adventure of owling, dawn choruses and afternoon lulls, or a stroll through your backyard, you have likely experienced some of the hobby's thrills: the giddiness of spotting a returning spring migrant, the sharp intake of breath as a bright color flits by, the unfolding drama of raptor behavior. Add in the inherent comradery of birding with a team, and you've got yourself a recipe for effective and world-changing citizen science.
Here at Hawk Mountain we recently had the privilege of welcoming back former trainee Ana Castaño and hearing firsthand how the Global Big Day has impacted Colombia's pride in their bird biodiversity as well as their social well-being and re-connection with natural riches. Colombia is currently recovering from political conflict dating back to the 1960's, and while conservation may seem like an unconditional global priority, there are plenty of countries today that cannot afford to prioritize the state of their environment. They have bigger, more immediately threatening fish to fry. In Colombia, the current post-conflict recovery has paved the way for a resurgence of relative safety and therefore conservation and nature appreciation are making their way back into the country's culture. Global Big Day has become both a catalyst and a compliment to this movement, as Ana Castaño eloquently expressed to us in a public lecture during her stay.
Following her traineeship here at Hawk Mountain in 1998 Ana returned to Colombia and started the first hawk watch site in the country, a true example of the initiative and innovation that we see from our trainees after they fledge from the sanctuary. More recently in 2015, Ana joined a national committee of six volunteers to design a strategy to promote Global Big Day in Colombia. Given that Colombia has more bird species than anywhere in the world, their inclusion in the eBird database is a priceless asset for the ornithological community as a whole. To make Global Big Day popular, Ana and her team creatively incentivized participation, not by spending money on prizes or awards, but simply by emphasizing the social benefits and ease of birding as an activity. They began by highlighting a species that most Colombians recognize; the Summer Tanager.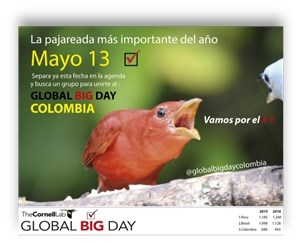 By using a familiar species to introduce people to the event, the hope was that birding would not seem like an exclusive activity only suitable for experts and bird nerds. Instead, Global Big Day was an opportunity for anyone from anywhere to jump into a socially rewarding and competitive event that would alert the world to Colombia's environmental splendor! They created and distributed online posters to raise awareness about the Global Big Day, all of which was accomplished without costing Ana's team a penny. In order to tackle the challenge of registering species that exist only in rarely visited areas, Ana started a chatroom asking for birdwatching crew leaders in each state to focus on their sites. The chatroom was a success, and through this networking each of Colombia's 32 states were represented by a crew leader, and many rarely species made it into the count the next year.

However, there were still hundreds of species that were known to exist within the country's borders but were not registered. In order to inspire greater investigation, Ana and her fellow leaders created a "shame list," followed by distribution of posters for Colombia's "most wanted" birds such as the buff-fronted owl.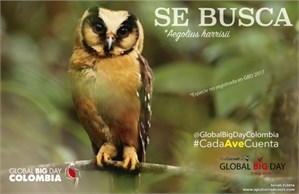 This method of good-natured shaming worked! Between the 2017 and 2018 Global Big Days Colombia registered 538 more birds, removing them from the shame list once and for all.

For the 2018 Global Big Day, Colombia was the species leader with a whopping 1,545 species, an achievement that carries significant weight given that the country did not participate in the event for the first few years. To exemplify the sheer magnitude of birds that exist in Colombia, consider that the United States submitted by far the most checklists last year, yet we reported less than half the number of species. Simply put, no matter how much effort U.S birders put in, we just won't see as many birds, and many that we do see migrate to Central and South America for part of the year. Therefore, as a global conservation community we rely on species-rich places like Columbia to help us understand how our feathered friends are faring once they leave the United States and to keep an eye out for changes in their distribution and health before it's too late. Conservation take teamwork, so thank you Colombia!

In total, 4,500 birdwatchers have been organized in Colombia to partake in Global Big Day. This organization around an environmentally-beneficial endeavor has, in Ana's eyes, truly strengthened her country's investment in their natural surroundings and alerted the general public to the value of ecotourism. Now, with safer streets, Colombia can attract more bird enthusiasts from all over the world and show them birds they never dreamed they would see in person. Furthermore, data from Colombia's Big Days will bolster the eBird database and allow scientists to answer many more questions in the future. The success of this event has been a win-win for all.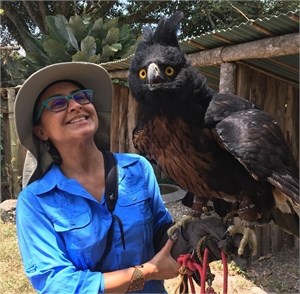 Ana Castaño is proud of her country and her fellow collaborators for placing Colombia on the worldwide radar of birding hotspots. We at Hawk Mountain are, in turn, proud of Ana for her visionary capabilities, her follow through, and her ongoing advocacy not only for raptors, but for the well-being of her fellow Colombians and the environment they share.