Conservation Corps build new steps for South Lookout
Local teens construct natural stepped pathway
Posted on June 29, 2016 in Special Projects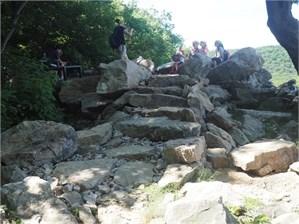 Last Tuesday, the Hawk Mountain Conservation Corps worked with Director of Land & Facilities Todd Bauman to construct an all-natural stepped pathway between South Lookout and its platform.
The group built the stepped trail with small boulders and crushed rocks that were already at the lookout to create a small connection between the main South Lookout and the distinguished platform. This is to reduce the possibility of injury for those who who were stepping over the jagged barrier that completely bordered the platform.
The Conservation corps worked hard throughout the morning and afternoon of Tuesday, June 21 and managed to finish the project by the end of the work day.