Art exhibit in Philadelphia based on Hawk Mountain experience
Posted on September 14, 2015 in Special Projects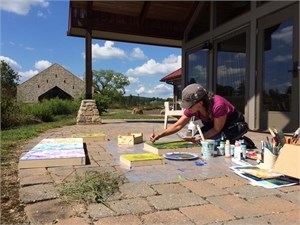 Philadelphia artist Deirdre Murphy has announced two upcoming exhibitions inspired by her time at Hawk Mountain Sanctuary. The Winds of Change exhibit at Gross McCleaf Gallery is the result of time spent as an Artist-in-Residence at the Sanctuary's Acopian Center for Conservation Learning and Migratory Paths will be on display at URN Headquarters at the Philadelphia Naval Yard and is inspired by Deirdre's previous three years of study at the Sanctuary overlooks.

Murphy is a painter whose work often features landscapes with expansive skies and birds in flight. In fact, her series of four works, Sky Paintings, were previously on exhibit at the Philadelphia International Airport for a year-long installation. The paintings featured themes of nature and blue skies accentuated with birds and kite-like element, and her work has long been inspired by a fascination with avian migration.

Deirdre Murphy received a Bachelor of Fine Arts from Kansas City Art Institute in 1991, a Master of Fine Arts from the University of Pennsylvania in 2000, and is an adjunct professor at the University of Pennsylvania. She has exhibited nationally and internationally including at the Palm Springs Museum of Art, the Tacoma Art Museum, the Pennsylvania Academy of Fine Art among others, and published in New American Paintings and Fresh Paint Magazine.

Hawk Mountain in 2002 opened the Acopian Center for Conservation Learning, a scientific field station and training facility at the base of Hawk Mountain. Here, residence buildings were designed for scientists and trainees, but also with the idea to perhaps also accommodate an artist in residence.

"It's exciting to see yet another vision of the Acopian Center come to fruition and to have the resulting artwork promote the Sanctuary to a new audience," says Hawk Mountain's Sarkis Acopian Director of Conservation Science Dr. Keith Bildstein.