Amber Wiewel selected as 3rd Pennsylvania Bird Atlas Coordinator
Posted on July 24, 2023 in Special Projects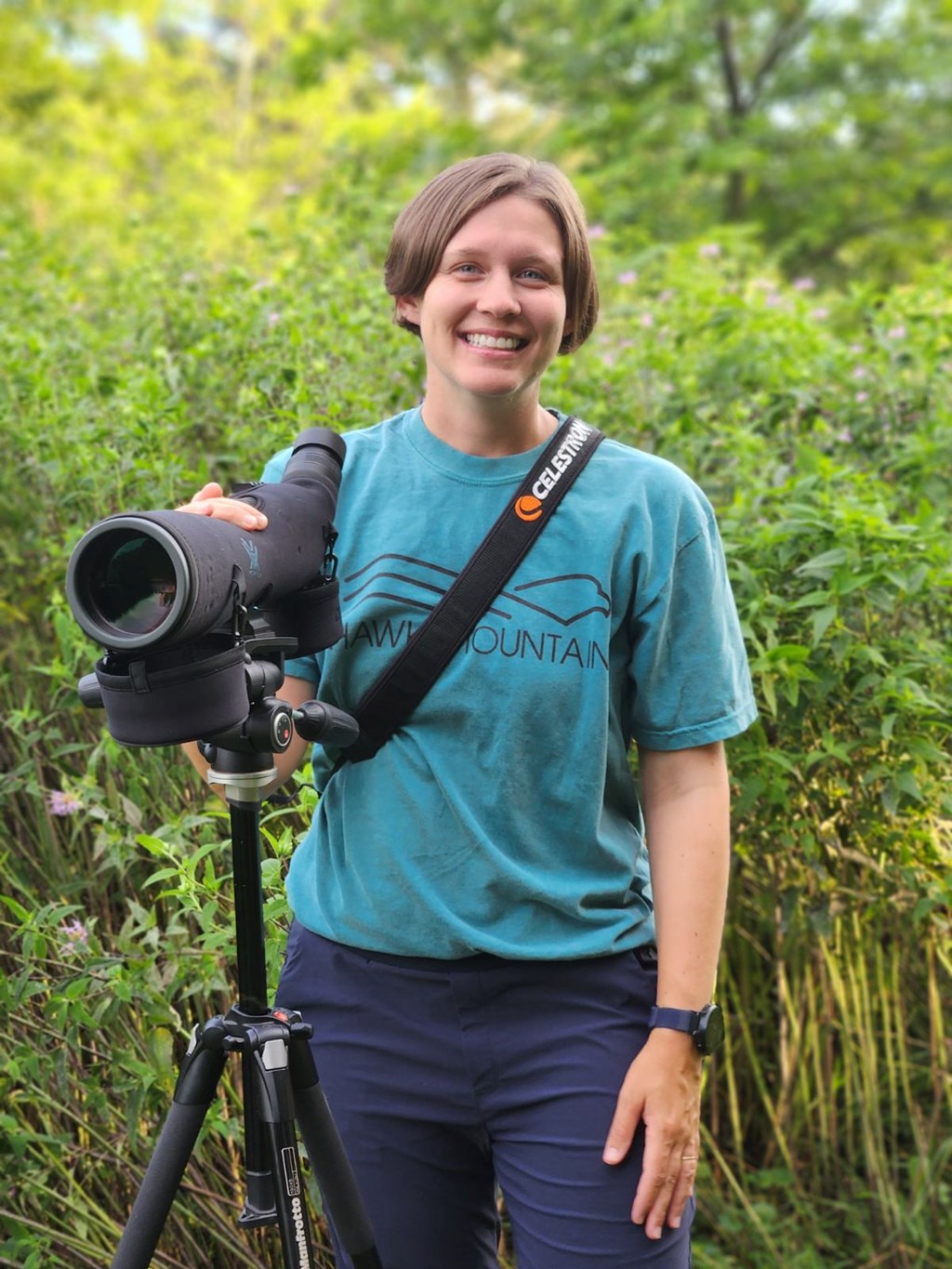 Hawk Mountain Sanctuary, in partnership with the Pennsylvania Game Commission (PGC) and the Pennsylvania Bird Atlas Steering Committee, has selected Amber Wiewel, Boalsburg, to serve as the coordinator of the 3rd Pennsylvania Bird Atlas.
"The Atlas will provide a snapshot of the population status and distribution of birds in the Commonwealth. No other bird surveys are as comprehensive, and for that reason, the results are critical to the establishment of conservation priorities for Pennsylvania birds," says PGC State Ornithologist Sean Murphy.
Hawk Mountain will provide oversight for Amber who will partner with birdwatchers and ornithologists in every county across the state to survey bird species' status and distribution from 2024 through 2028. Amber's first order of business will be to develop survey protocols and outreach materials for the public and birding communities, identify regional coordinators, and then to promote the Atlas and recruit volunteers, with surveying to begin in 2024.
The Atlas will be open to all volunteer birders, regardless of skill level, primarily by using the popular "eBird" online database to record observations. It also will be the first time a Pennsylvania Bird Atlas will incorporate winter surveys in addition to breeding season surveys, which will help refine the understanding of the year-round distribution and relative abundance of Pennsylvania's bird populations.
"I am excited to join Hawk Mountain and coordinate efforts for Pennsylvania's 3rd Bird Atlas. Pennsylvania is home to a large population of birders, and the tremendous effort required to execute the Atlas would not be possible without these enthusiastic volunteers. I look forward to connecting with birders across the state over the next few years," says Amber.
Amber will report directly to Dr. Laurie Goodrich, Director of Conservation Science at the Sanctuary, and Sean Murphy, while working closely with the steering committee. The five-year project will be headquartered at Hawk Mountain with much work occurring remotely and using a vast network of volunteer birders statewide.
"Hawk Mountain has a long history of working with the Pennsylvania Game Commission to study state birds and is proud to partner with them to implement this important project," says Sanctuary President Sean Grace.
Amber has more than 15 years' experience in avian and wildlife conservation, having directed wildlife monitoring throughout the Northeast through various positions with Penn State University and USGS.
"Having experience with developing survey protocols, training volunteer field crews, and coordinating surveys makes Amber ideal for the job," says Dr. Goodrich. Amber also has worked on forest bird research, assisting PSU faculty with field work examining how songbirds use forested landscapes in Pennsylvania.
Amber earned her master's in ecology and evolutionary biology in 2011 from Iowa State University, having studied the breeding-season ecology of the Puerto Rican Bullfinch. In Puerto Rico, she also led field crews surveying birds for a large collaborative research project. Her bachelor's degree research examined winter ecology of the black-and-white warbler in Puerto Rico.
In addition to her professional pursuits, Amber also participates in the USGS annual breeding bird surveys and volunteers as a Penn State Master Gardener, helping landowners with garden plans.
Andrew Wilson, a professor of environmental studies at Gettysburg University and member of the Atlas steering committee, is equally pleased and notes the importance of the Atlas.
"It's wonderful to have Amber in place to ramp up efforts, and we're excited to have a capable and experienced project organizer to lead the charge. Like many other birders in Pennsylvania, I've been looking forward to this since the last project ended 15 years ago. We know there have been lots of changes in the Commonwealth's bird life, but we are sure to find surprises, too," Wilson says.
Learn more and stay tuned for more updates at hawkmountain.org/3rdpabirdatlas.