Trainees reunite at Pan-African Ornithological Conference
Connecting the network globally
Posted on December 06, 2022 in Science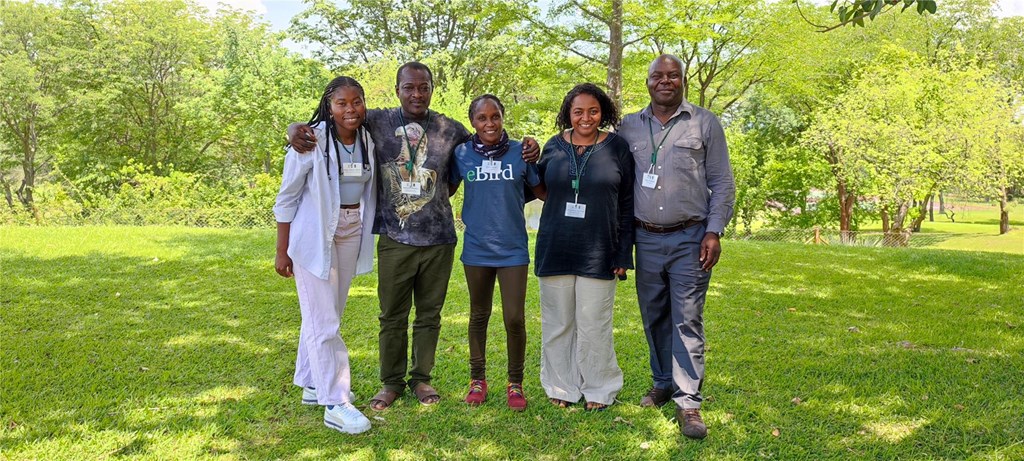 Trainee graduate Martha Nzisa from Kenya (Spring 2010) recently shared her chance to reunite with four of her Hawk Mountain colleagues, also former trainees, at the 2022 Pan-African Ornithological Congress held November 20 to 25 in Zimbabwe.

The international symposium not only brought together global bird conservationists, but also provided an opportunity for Hawk Mountain Sanctuary Conservation Science alumni to meet, collaborate, present, and celebrate their incredible conservation studies and projects in their countries. A group photo of the alumni included, from left, Merlyn Nomsa Nkomo from Zimbabwe (2017), Nathaniel Annorbah from Ghana (2010), Martha Nzisa from Kenya (2010 ), Bruk Abdu from Ethiopia (2009), and Ngoni Chitemamuswe from Zimbabwe (1998).
"We're super grateful to Hawk Mountain Sanctuary for providing these internships and giving us a great push in our various conservation science related careers as well as the collaborations that have resulted from the internships. Yes, we do miss the Mountain," Martha said.
Hawk Mountain President Sean Grace explained that this is precisely the type of global collaboration and interaction the Sanctuary intends to see and support and is a top organizational goal.
"Connecting our network of trainees strengthens our reach and ability to make a difference for raptors, local to global," Grace says.
"It's inspiring to see this group meet up and collaborate, especially in an area where raptors are at risk. It's the Hawk Mountain model in action," he adds.