Tagged broadwing moves about South America
Adult female is on the move in Brazil
Posted on February 13, 2015 in Science
Visit the Broadwing Project page now
Four broad-winged hawks tagged by scientists at Hawk Mountain and near its world-famous Sanctuary have been tracked more than 4,000 miles to Central and South America, and one is currently moving about central Brazil.

"We're not sure if this is the beginning of a return migration or if she is just wandering, but we look forward to watching her journey and hope to see her return to Pennsylvania this spring," says Dr. Laurie Goodrich who oversees the field research.

Last summer biologists tagged three juveniles and one adult broad-winged hawk during the pilot year of research. Telemetry signals stopped on one juvenile during September, but the other two juveniles born on Hawk Mountain migrated to southern Mexico and Panama. The two were last heard from in November, while "Abbo," the adult, continues to make sporadic appearances on the radar each time she moves her location. Goodrich explains that the lack of a signal from the other birds is likely because the birds are in large tracts of thick, unbroken forest where the solar-powered transmitters don't receive enough sunlight to recharge.

"We hope to hear from them again in spring when the birds start soaring, and eventually begin to migrate north," says Goodrich, "but Abbo is checking in with us regularly."

"Abbo" raised three young from a nest in New Ringgold, and was trapped by the team using mist netting. She was named by a donor who sponsored her telemetry unit at a cost of $5,000. After Abbo and her mate raised their young, she set off on her migration, traveling south through Central America to central Brazil. Here she was located south of the Amazon near a national park in late December, but in January, she began another movement back towards Peru. She now is in the great forested area of central Brazil in the state of Amazonas.
About the study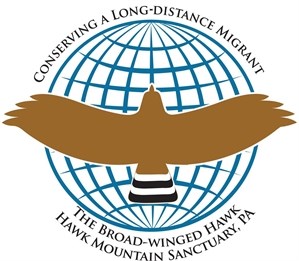 Hawk Mountain Sanctuary launched the study of this iconic Pennsylvania raptor last year with support from the Kittatinny Coalition, Pennsylvania Game Commission, and several generous private donors, with the goal to learn more about the broadwing and its impressive long-distance migration as well as its nesting ecology. Each September large flocks of the small, soaring hawks gather in swirling "kettles" as they take advantage of energy-saving thermals, or rising columns of warm air. The broadwings follow the Appalachians south and build in numbers before funneling through Central America where nearly the entire world's population will pass within a two-week timeframe. In April they return to Pennsylvania forests to raise their young and begin the cycle anew.

"Many birdwatchers make a special visit to Hawk Mountain in mid-September in hopes of seeing broadwings on the move," says Goodrich. "If your timing is right, it's an amazing sight to see."

The goal of the study is to use the popularity of this migration and the power of satellite telemetry to learn more about the conservation threats and habitat needs of this species year-round, and to track their movements from Pennsylvania nest sites to Central and South America in the fall, and back to Pennsylvania in the spring, and for up to two years. Findings will guide conservation efforts.

This summer, Hawk Mountain plans to tag up to eight more broadwings from nests along the Kittatinny Ridge and in the Delaware Water Gap area. To follow the work, visit www.hawkmountain.org/Broadwing to link to a dedicated Facebook page, blog and to learn more. Scientists also are in need of volunteers with a strong interest in bird watching to report any sightings of broadwing nests during May and June and donations of $100 to $5,000 are needed to support field work, nest finding and telemetry, $5,000 donors have the right to name a tagged bird. To learn more, please contact Dr. Goodrich at [email protected].

Hawk Mountain Sanctuary is the world's first refuge for birds of prey and an international center for raptor conservation. It's 2,500-acre Sanctuary is open to the public year-round, and funds from membership dues and trail admission directly supports its local-to-global research, training and education programs. To learn more, visit www.hawkmountain.org.