Snowy owl research featured in prestigious journal
Posted on June 14, 2018 in Science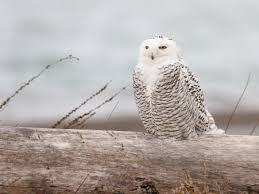 Audrey Robillard, our former Ph.D. student from Laval University, Canada studied snowy owl movement ecology under the supervision Hawk Mountain Senior Research Biologist Dr. Jean-Francois Therrien and has just published the last chapter of her thesis. The article is now featured in the May issue of the prestigious Journal of Avian Biology, and an image from the research claims the cover.

Movement ecology of snowy owls
Although widely recognized and appreciated, the snowy owl is a challenging species to study given its nomadic and irruptive nature. Notwithstanding, Hawk Mountain Sanctuary and its collaborators have been leading cutting-edge research on this charismatic species.

As part of this endeavor, Audrey Robillard, a newly appointed Ph.D., with her colleagues (including Hawk Mountain's senior research biologist JF Therrien), recently published an exciting research in one of the world-leading ornithological journal, the Journal of Avian Biology. The study analyzed movement ecology of adult snowy owls tracked with satellite transmitters from their breeding grounds between 2007 and 2016 and compared site fidelity between summer and winter seasons.

Our results confirmed a huge variation in habitat use among individuals. Overall, adult snowy owls mostly spend the non-breeding season in the Arctic and in the marine and coastal environments. Snowy owls tend to be consistent in their use of a given wintering environment although some individuals exhibited striking change between consecutive years. Indeed, after spending a full winter in the high Arctic coastal environment, a tracked female then switched to the grassland prairies of the Midwest on a subsequent winter. This study will help us understand the intricate link between the species and its environment. Moreover, this project reinforces our role in protecting the species while it is still common.