Research reveals a stronghold for a Critically Endangered African vulture
Good news for hooded vultures in the Gambia
Posted on April 15, 2016 in Science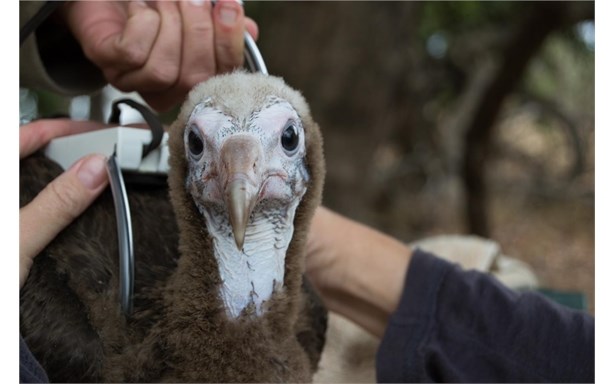 Download the article now

Hawk Mountain study reveals a stronghold for a critically endangered African vulture
Hawk Mountain Sanctuary and its local conservation partners in The Gambia have published a technical paper confirming and detailing a previously undocumented stronghold for the hooded vulture in this west African nation. The findings, which are based on road surveys throughout westernmost Gambia, were compared to surveys elsewhere in Africa including Ethiopia, Kenya, Uganda, and Tanzania as well as to Hawk Mountain's own data from South Africa.
"Westernmost Gambia, it turns out, is a brilliant bright spot in an otherwise dark sky for hooded vultures, the smallest of Africa's 11 species of vultures," says Dr. Keith Bildstein, Sarkis Acopian Director of Conservation Science at Hawk Mountain. Bildstein oversees the Sanctuary's global research programs and launched the study two years ago.
He and his co-authors suspect that the critically endangered species is doing well in the region because Gambians respect the role of vultures in their environment and even welcome them, whereas in other parts of Africa, hooded vultures are threatened by poisoning, environmental contaminants, and killing for use in traditional medicines.
"The Gambian people have embraced the hooded vulture as an effective trash removal system and have established "Vulture Restaurants," or dumping sites for blood, carcasses, and other food scraps. It's amazing how fast the birds can eat through a pile of waste," he explains.
The "restaurants" have even led to a boost in birding tourism; several new hotels now cater to guests who wish to enjoy photo opportunities of more than 100 hooded vultures gathered in one spot.
"The next step is to share our findings with the conservation community, but more importantly, with the local governments and communities. They need to know their global significance to this important species," Bildstein adds.
The article, which appeared in the 2016 issue of Malimbus: The Journal of West African Ornithology, is available for download at hawkmountain.org/publications and is Hawk Mountain Contribution to Science No 260.
Hawk Mountain Sanctuary is the world's first refuge for birds of prey and an international center for raptor conservation. Its mission is to provide leadership in raptor conservation science and education, and to maintain Hawk Mountain Sanctuary as a model observation, research, and education facility. To learn more about Hawk Mountain or its conservation science programs, or to support this work, please call 610-756-6961 or make an online donation now, noting "hooded vultures" in the comment block.