Rebecca McCabe Selected as 2020 James A. Kushlan Award Winner
Posted on October 01, 2020 in Science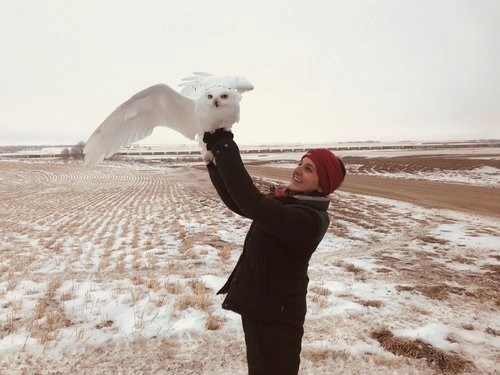 Hawk Mountain is proud to announce it has selected Rebecca McCabe as its 2020 James A. Kushlan Award recipient. Rebecca is a doctoral candidate at McGill University in Canada conducting independent research on the winter survival of snow owls and the implications on their conservation. The award is named after ornithologist, educator, writer and conservationist James A. Kushlan who with his family provided funds to support Hawk Mountain's growing Graduate Student Program through this annual award.
A Spring 2014 Hawk Mountain Conservation Science Trainee, Rebecca has demonstrated steadfast dedication to raptor research over the last six years. Upon completing her traineeship at the Sanctuary, she successfully defended her master's thesis on the nesting behavior of broad-winged hawks under the supervision of Dr. Laurie Goodrich, Sarkis Acopian Director of Conservation Science. She immediately went on to pursue her Ph.D. and is under the supervision of Dr. JF Therrien, Senior Scientist and Graduate Study Director, studying snowy owl ecology and survival rate in winter, which research suggests is a critical time in this species' life. Her project will shed light on this less-studied period of their annual cycle, significantly increasing our understanding of its ecology and, ultimately, its conservation.
The James A. Kushlan Award was established in 2005 to support graduate students in their work for or with Hawk Mountain Sanctuary through a generous gift established by the Kushlan Endowment Fund. The award is competitive and based on the merit of research project proposed and awarded to a qualified graduate student working in raptor conservation and without geographic restriction. The Hawk Mountain Graduate Student Program is a strategy to support the most talented up-and-coming raptor biologists and assist them with completing independent research that not only adds to our understanding of raptor conservation, but also helps to establish young professionals globally as leaders in the conservation community.
To learn more about Hawk Mountain's Graduate Student Program or to apply for the James. A. Kushlan Award, please contact JF Therrien, Ph.D., at [email protected].