New paper on Caracara research
Work in Falklands will help save this endangered raptor
Posted on December 17, 2012 in Science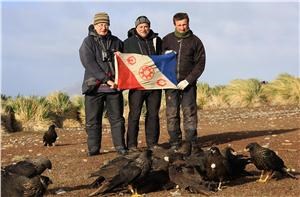 Download the paper in Polar Biology
Learn more about Hawk Mountain's ongoing research in the Falkland Islands

Pictured at right, Robin Woods is a retired meteorologist and coauthor of "Atlas of breeding birds of the Falkland Islands." Dr. Keith Bildstein is Hawk Mountain's Sarkis Acopian Director of Conservation Science. Micky Reeves is the Raptor Studies Coordinator with Falklands Conservation, the Birdlife partner on the Falklands.

Hawk Mountain publishes paper on Striated Caracara research in the Falklands
Hawk Mountain has published the first of what it hopes to be a series of publications describing the results of Dr. Keith Bildstein's research on Striated Caracaras. The paper details the species' winter diet at a farm site in the Falkland Islands.

"We chose to publish the paper in Polar Biology because the readership includes many avian conservationists working in the Antarctic, and because Striated Caracaras—the world's most southerly distributed bird of prey—are globally near-threatened," explains Bildstein.

The paper is now available online, and a copy has been sent to the Penguin News on the Falklands, which plans to run a story on it. Kalinka Rexer-Huber, the paper's the co-author, volunteered her time to work on the species two summers ago.

Dr. Bildstein explans that the caracaras he is studying depend heavily on both intended and unintended nutritional handouts from humans to survive the Falklands' winter, a phenomenon he refers to as a "human subsidy."

"In the end," Keith says, "it is the Falklanders who will make or break the future of this globally near-threatened species."

Support Striated Caracara Research
To support this important research on a globally threatened scavenging raptor, please contact Dr. Keith Bildstein at 570-943-3411 x108 or [email protected] to discuss project needs and amounts.

Funding for this research is provided by the Wallace Research Foundation, the Acopian family, and individual donors.