New Bald Eagle record at Hawk Mountain
Posted on December 05, 2016 in Science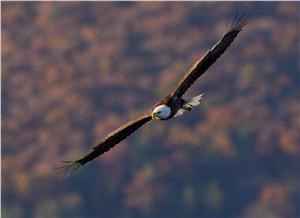 On Thursday, December 1, 2016, the 407th bald eagle soared over North Lookout, breaking the record previously set in 2010. As of December 5, the count currently stands at 456 bald eagles, and it will continue until December 15.

The bald eagle has increased steadily since the ban of DDT in 1972, leading to it being down-listed from Endangered to Threatened, and then finally removed from the Endangered Species List entirely in 2007.

A record 406 migrating bald eagles were counted during the duration of the 2010 Autumn Migration season, and Hawk Mountain has seen improved numbers in recent years as nesting populations continue to increase throughout Pennsylvania, New England, and eastern Canada.

For more information, visit our Bald Eagle page, or head over to the US Fish & Wildlife Service Bald & Golden Eagle page.