Meet Melissa Bobowski
New graduate student is studying the striated caracara
Posted on October 28, 2013 in Science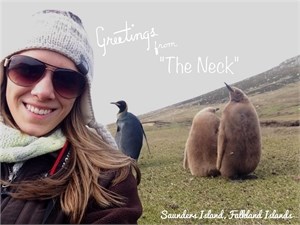 New Hawk Mountain Graduate Student:
Melissa Bobowski, Michigan, United States
Doctoral candidate, Arkansas State University
Melissa received her B.S. in Biology from Grand Valley State University in Grand Rapids, Michigan, and her M.S. in Biology from Arkansas State University. Her interest in ornithology developed as an undergrad when she worked on an independent study on the nest-site characteristics and reproductive success of tree swallows. After a course in ornithology, she quickly became interested in birds of prey and studied the foraging behaviors of overwintering red-tailed hawks and American kestrels for her master's thesis, which she received in August 2013. Today she is working toward her doctorate researching the ecology of striated caracaras in the Falkland Islands under the direction of Dr. Keith Bildstein. Read Melissa's blog post from the field.