Hawk Mountain trainee publishes in peer-reviewed journal
Adrián Naveda publishes bulk of his Master's thesis
Posted on April 27, 2016 in Science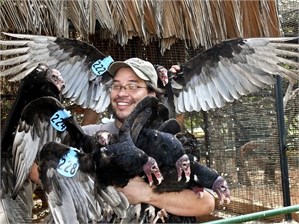 Read the piece now, Hawk Mountain Contribution No. 263
Adrián Naveda-Rodríguez, a Hawk Mountain Conservation Science Trainee during Spring 2007, has just published the bulk of his Master's thesis in Biodiversity and Conservation, a well-respected, high-impact scientific journal. The piece is co-authored by Hawk Mountain's Sarkis Acopian Director of Conservation Science Dr. Keith Bildstein, and a conservation colleague from Ecuador, Félix Hernán Vargas.
The field and desk work for the paper, which lays out a strategy to better protect raptors in Adrián's home country, Venezuela, was supported with a Hawk Mountain Sanctuary "Project Soar" grant. These mini-grants are funded by independent donors and are used to jump-start the careers of Hawk Mountain trainees. The grants are designed to launch independent, on-the-ground research that will contribute significantly to the field of raptor conservation.
Venezuela is an important country for birds of prey, boasting 64 species of diurnal raptors, yet little is known about their distribution and conservation needs. By comparison, all of North America has 35 species of birds of prey.
"This Sanctuary contribution to conservation science typifies what Hawk Mountain is all about—supporting the best up-and-coming raptor conservationists, mentoring their research in places we need to be studying raptors, and then sharing that new information with the scientific community and the public," Bildstein explains.
The paper found that the highest species richness was found in the Guyana Massif and the mountains of northern Venezuela, much of which remains unprotected.