Hawk Mountain's Dr. Laurie Goodrich Receives Celebrating Women in Conservation Award
Posted on June 11, 2021 in Science
Dr. Laurie Goodrich, Sarkis Acopian Director of Conservation Science at Hawk Mountain Sanctuary, received PennFuture's 2021 Woman of Lifetime Achievement in Conservation Award.
Each Year PennFuture honors the accomplishments of women conservationists in Pennsylvania. The 2021 Celebrating Women in Conservation Awards are designed to recognize excellence in conservation and to forge a stronger network of women who are deeply committed to working to protect Pennsylvania's environment.
The Woman of Lifetime Achievement in Conservation Award celebrates the lifetime accomplishments of a remarkable woman who has made a difference by devoting significant parts of her life to protecting and enhancing Northeastern Pennsylvania's natural greatness and for her tireless dedication to environmental advocacy and justice. Nominees should have dedicated at least 25 years of work to conservation in Pennsylvania.
Dr. Laurie Goodrich has worked in virtually every aspect of raptor conservation at Hawk Mountain, from overseeing its long-term migration counts, to directing its education program and developing the first education plan, to conducting scientific research and publishing more than 50 peer-reviewed papers. In addition to currently leading Hawk Mountain Sanctuary's local-to-global research and professional, international training program, Goodrich co-published Hawk Mountain's first scientific paper on raptor migration trends, co-wrote the Hawk Mountain Land Management Plan, and helped to develop the nationally award-winning Raptor Population Index Project. She also helped establish the first raptor migration monitoring and conservation site in Mexico, which records more than 4 million migratory hawks each autumn.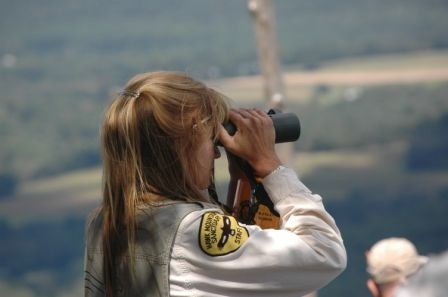 "Many visitors to the Sanctuary know Laurie from the North Lookout, where she is always at home, sharing her contagious enthusiasm for hawk watching and the natural world," explains Sanctuary President Sean Grace.
"Laurie's conservation accolades are simply too numerous to mention, but we are lucky to have a colleague who is so exceptional in her accomplishments and who continues to serve as a conservationist, scientist, teacher, and outstanding female mentor to all," he adds.
Goodrich expresses her gratitude for being selected as a Woman of Lifetime Achievement in Conservation Award recipient: "I am extremely honored by both the nomination and the award. All my accomplishments have been largely the result of Hawk Mountain encouragement, support, and the other great staff behind the scenes. So, I salute all present and past staff for their roles in conservation success as well."
Gifts in Dr. Laurie Goodrich's honor can be made here.