Hawk Mountain, Kutztown University Renew Academic Research Agreement
Posted on August 26, 2021 in Science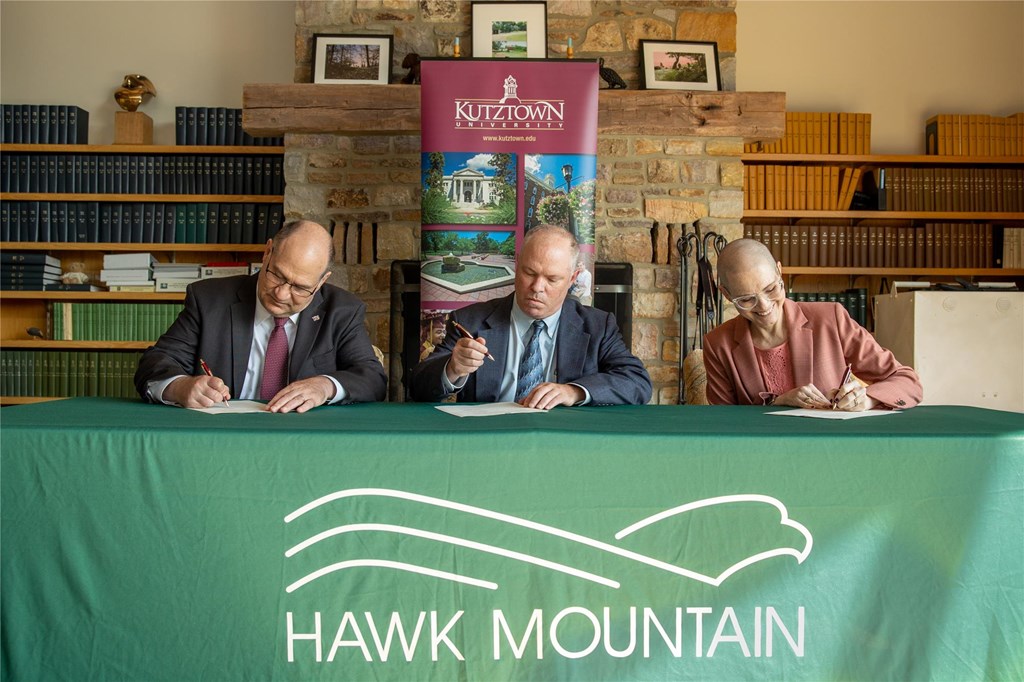 Aug. 25, 2021

Kutztown University and Hawk Mountain Sanctuary, Kempton, Pa., renewed a five-year agreement of academic cooperation Wednesday, establishing a research affiliation for the mutual benefit of both institutions.

Hawk Mountain Sanctuary is the world's first refuge for birds of prey and an international center for raptor conservation. In addition to operating the 2,500-acre Sanctuary, its conservation science team executes local-to-global scientific research and professional training programs for up-and-coming conservationists.

The agreement provides KU students and faculty the opportunity to partner with Hawk Mountain Sanctuary personnel and researchers from around the world on field research in the areas of conservation, migration, and raptor biology. Internship opportunities will also be available for students.

"This agreement has a special meaning to me," said Kutztown University president, Dr. Kenneth S. Hawkinson.

"I carry great pride to be a member of the Board of Directors for Hawk Mountain. The Board members and staff are among the finest people I've ever known. They are selfless in the giving of their time, passionate in their love of nature, fully engaged in their conservation mission and dedicated to the education and enlightenment of this and future generations. My thanks to Hawk Mountain and the Board of Directors for partnering with us on this important agreement."

"We are thrilled to renew our long-standing collaboration with Kutztown University. The partnership supports and strengthens our academic scope providing staff and trainees access to a range of faculty and facilities," says Hawk Mountain President Sean Grace.
Kutztown University's academic offerings include biology, biochemistry, chemistry, environmental science, geography, instructional technology/digital classroom technology, public relations and social media theory and strategy. Students and faculty in these areas will have the ability to perform collaborative research with Hawk Mountain Sanctuary as a research affiliate.

Hawk Mountain Sanctuary seeks to use environmental science to inform conservation strategies to protect the world's migrating raptors, their migration systems, and the natural habitats upon which they depend. The Sanctuary works with world-class raptor scientists and other conservationists, graduate students, and international trainees at the Acopian Center for Conservation Learning to share ideas, collect and analyze new information, maintains an extensive ornithological library, and promotes raptor research and conservation worldwide.

To learn more about KU's College of Liberal Arts and Sciences, visit their website or contact 610-683-4305 or [email protected]. To learn more about Hawk Mountain Sanctuary, visit www.hawkmountain.org or call 610-756-6961.