Hawk Mountain group receives national award for conservation
Eastern Golden Eagle Working Group is honored
Posted on April 05, 2013 in Science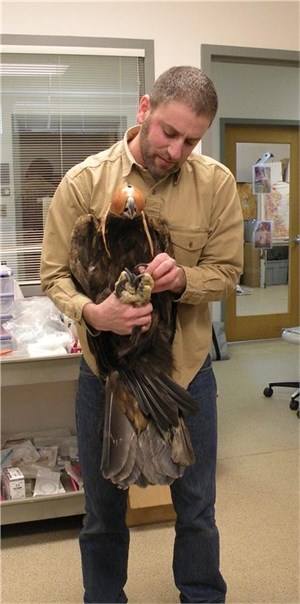 An international partnership focused on golden eagles in eastern North American and initiated at Hawk Mountain, has been recognized by the U.S. Forest Service with a special award.

"Successful conservation happens best through partnerships, and the Eastern Golden Eagle Working Group is no exception," says Dr. Keith Bildstein, the Sarkis Acopian Director of Conservation Science at the Sanctuary.

"A flight of 39 golden eagles in autumn 1934, the Sanctuary's first migration season, ranks as Hawk Mountain's first significant contribution to the ornithological literature, and a record flight of 170 golden eagles last autumn suggests just how far the species has come," Bildstein explains.

"Hawk Mountain is proud to be part of this new partnership which is focused on protecting one of our 'signature' birds of prey," he adds.

The award-winning collaboration developed as a result of an international workshop at the Sanctuary's Acopian Center for Conservation Learning, the private research and training facility at Hawk Mountain that was designed specifically to bring scientists together for information sharing and to further common conservation goals. The participants of the workshop, which hailed from the United States and Canada, gathered at Hawk Mountain to work on new strategies to better pool satellite telemetry data, and to use multiple research projects to better help learn and conserve birds of prey.

That initial meeting led to the formation of the Eastern Golden Eagle Working Group, a collaboration of biologists and wildlife managers from the United States and Canada working together to develop a more complete understanding of golden eagle ecology throughout eastern North America. Goals of the group include raising conservation awareness, encouraging population management, coordinating collaboration, and supporting research activities.

Other Forest Service award recipients included universities, volunteers, foundations, conservation organizations and private firms that have demonstrated excellence in their work to ensure the long-term sustainability of migratory birds, butterflies, bats and dragonflies.

A complete listing of the 20 winners is available at www.fs.fed.us/global/wings, and those with an Internet connection can learn more about the Eastern Golden Eagle Workshop Group at www.egewg.org.



Hawk Mountain Sanctuary is the world's first refuge for birds of prey and an international center for raptor conservation. In 2012 the Sanctuary celebrated the first ten years at its Acopian Center for Conservation Learning, a facility that provided the capacity to effectively double its research and professional training programs. To learn more about Hawk Mountain, visit www.hawkmountain.org.