Former Hawk Mountain trainee in Nigeria receives grant
Funding will help investigate the avian body parts trade
Posted on March 24, 2014 in Science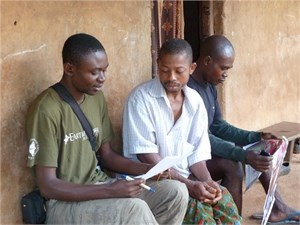 Hawk Mountain Sanctuary conservation trainee Fidel Atuo, Nigeria, has received a Rufford Small Grant for Nature Conservation from the Rufford Foundation, a UK-based organization that funds nature conservation in developing countries. The grant will support a new study this summer on the trade of avian body parts in south-east Nigeria, including the cultural and economic drivers that support the trade and to identify the species most affected. Findings from the study will help to guide public awareness campaigns to reduce the threat on wild birds and other wildlife.

The targeted persecution of avian species in traditional medicine is not unusual, and takes place many places worldwide. For example, the bones, head and feet of vultures are in high demand thanks to their perceived powers in communication with evil spirits. Feathers also are often exploited to award heroic deeds or to wear for traditional ceremonies. In fact, the practice of killing wild birds for body parts has recently been identified as one of the major causes for the population decline in several endangered and declining species in south-eastern Nigeria, especially the grey parrot.

Atuo is a well-rounded field biologist who has studied species ranging from raptors to River gorillas to rock fowl, and earned a B.S. in Zoology from the University of Calabar, and M.S. in Conservation Biology from the A. P. Leventis Ornithological Research Institute. In 2011 he traveled to the United States to complete a four-month, professional traineeship in conservation science at Hawk Mountain Sanctuary, and is currently completing his doctoral research on the spatial distribution of raptors in western Oklahoma.

Celebrating 80 years in raptor conservation, Hawk Mountain Sanctuary is the world's first refuge for birds of prey and an international center for raptor conservation. The 2,500-acre Sanctuary, 8-mile trail system and Visitor Center is open to the public year-round. A trail fee or membership dues supports local to global conservation programs, including public education, professional training and scientific research programs. Visit www.hawkmountain.org to learn more.