Connecting with Conservation: Hawk Mountain Presents Conservation Workshop in Argentina
Posted on January 18, 2023 in Science
Earlier this season, Hawk Mountain accepted an invitation from long-time Argentinian colleague Dr. José Sarasola to lead a multi-day raptor conservation science field course for South American students. Dr. Sarosola is the author of the acclaimed book Birds of Prey: Biology and Conservation in the XXI Century and recipient of the 2022 Raptor Research Foundation's Tom Cade Award.
Senior Scientist and Graduate Study Director Dr. JF Therrien seized the opportunity to reconnect with former trainees Diego Gallego and Paula Orozco-Valor (Spring 2022), two stellar early-career researchers, for a few days of field work monitoring the nests of Chaco eagles and American kestrels during their breeding season in the southern hemisphere (November – March). The team also set up a stand at the annual fair to connect and discuss with local farmers and the general public about the threats to species in the Argentinian Pampas, and to change attitudes towards these and other raptor species, including black and turkey vultures.
The class was hosted within the Biological Preserve of Parque Luro, an astonishing ecosystem at the heart of the Calden Forest in La Pampa province, where another former trainee Fernando Lopez (2018) conducted his PhD research on breeding kestrels. At the time of JF's visit, Fernando was migrating back north to the United States, as he recently secured a prestigious postdoc position with the Smithsonian Institute in Washington D.C. studying merlins.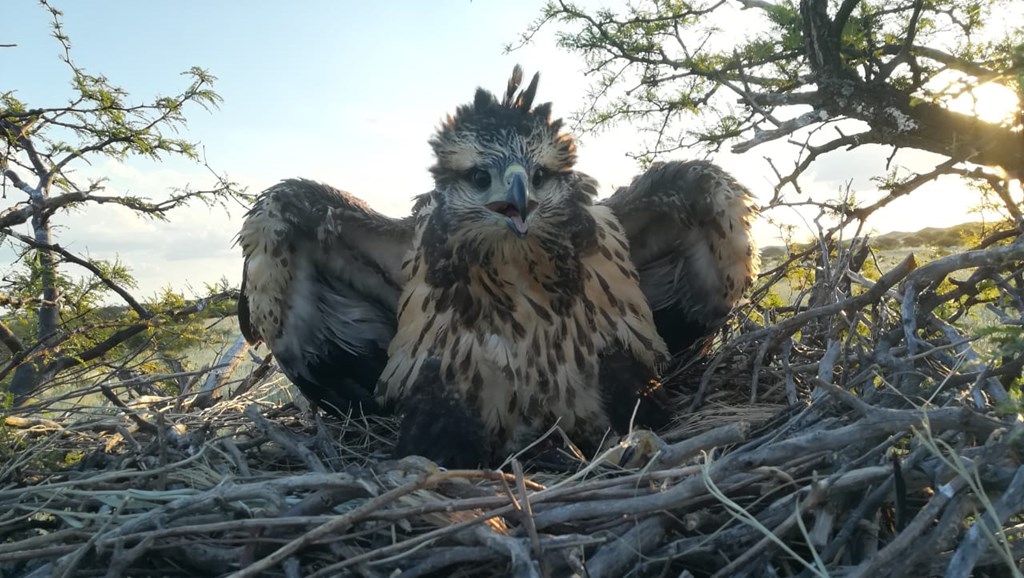 "This is a nice reminder of the efficiency of Hawk Mountain's global programs to attract and empower the best up-and-coming raptor conservationists from around the world," Dr. Therrien says.
Although at opposite ends of a wide continent, it is fascinating how efficiently Hawk Mountain's model for conservation can be applied in South America. Indeed, by connecting with local landowners, having them erect nestboxes for kestrels, reporting farmland raptor observations, and developing education and outreach materials, the collaborative initiative is empowering the local players to make a significant and lasting conservation impact. The weeklong course, combining classroom presentations and discussions with hands-on field experience, quickly filled up, and twenty students coming from across Argentina, Paraguay, and Spain learned about global raptor conservation and the Hawk Mountain model. All students agreed that such a class was long overdue in South America and they couldn't be happier with the opportunity. This once more spotlights Hawk Mountain's global reach and conservation impact acting with local players along the continental corridor to protect the birds inhabiting it.