Autumn 2012: A golden migration
Above average counts and record goldens
Posted on December 29, 2012 in Science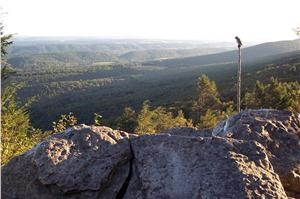 It was an exciting season on the Lookout, filled with big days and broken records, including a new season record for Golden Eagles (170) as well as a new one-day record. The 48 Golden Eagles that passed on November 3 smashed the previous one-day record (31), and 21 goldens on November 2nd and 4th came in as the third-highest single-day counts in Hawk Mountain history.

September 6 brought 36 Bald Eagles, the second-highest one-day count for Hawk Mountain, and we also had 'top six' counts for Black Vulture, Northern Goshawk, Red-tailed Hawk and Peregrine Falcon. A Swainson's Hawk passed on November 4th, just our 18th record of this western buteo.

All species came in above their 10-year average, with two exceptions: both Northern Harriers (150) and Cooper's Hawks (584) ended the season 21% below their 10-year average. This also was the fourth year in row without even one Rough-legged Hawk.

Other Migrants
This was the season to spot irruptive winter finches, and both Red and White-winged Crossbills were often heard and seen bounding past the lookout. A season total 130 Red Crossbills was the highest count since 1997.

Evening Grosbeaks were seen on five different days and Common Redpolls on six different days. Two Glossy Ibis were counted on October 6, only the second record at North Lookout. On October 27 a Greater White-fronted Goose passed ... also the second record for Hawk Mountain.

Other highlights included 219 Blue-headed Vireos counted on October 12, the peak 2,806 monarchs on September 10, and a grey comma on November 22. The grey comma was not only very late in the year for this butterfly species, but also was a new species for the Sanctuary record books.

2012 Autumn Migration Count Totals

Species, Season Count

Black Vulture, 112

Turkey Vulture, 411

Osprey, 574

Bald Eagle, 331

Northern Harrier, 150

Sharp-shinned Hawk, 5,220

Cooper's Hawk, 584

Northern Goshawk, 71

Unidentified Accipiter, 75

Swainson's Hawk, 1 (RARITY)

Red-shouldered Hawk, 215

Broad-winged Hawk, 8,394

Red-tailed Hawk, 2,845

Rough-legged Hawk, 0 (4 consecutive years with no roughlegs)

Unidentified Buteo, 39

Golden Eagle, 170 (NEW RECORD!)

Unidentified Eagle, 2

American Kestrel, 515

Merlin, 164

Peregrine Falcon, 54

Unidentified Falcon, 12

Unidentified Hawk, 54

TOTAL, 19,983

Counters and interns will return to North Lookout on April 1 for the spring migration count, which continues through May 15.