Acopian Center 10th Anniversary
Posted on August 29, 2012 in Science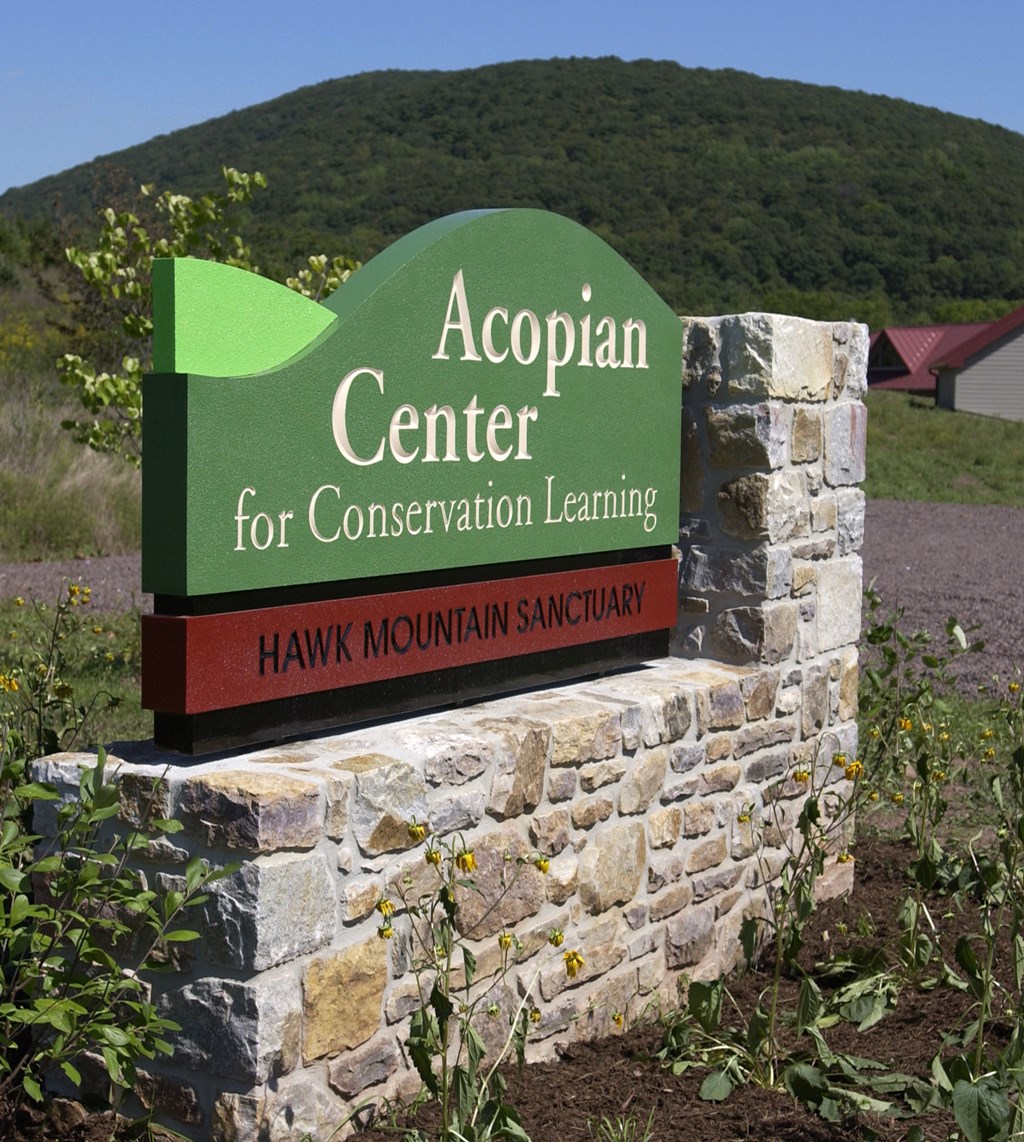 Programs expand during first decade
Hawk Mountain celebrates 10 years at the Acopian Center for Conservation Learning
Can a local non-profit make an international impact? Hawk Mountain Sanctuary offers a resounding yes. This year the non-profit raptor conservation organization celebrates 10 years of science, training and partnership at its Acopian Center for Conservation Learning, a three-building biological field station that opened September 7, 2002.
Hawk Mountain will mark the event by hosting a 10th Anniversary Open House at the Acopian Center on Saturday, September 8 from 2 pm to 4 pm. Tours will include a chance to see the grounds and buildings, and to meet Sanctuary scientists and conservation interns. The facility is located along Route 895 at 410 Summer Valley Road in Orwigsburg and is normally closed to the public.

Dr. Keith Bildstein, the Sarkis Acopian Director of Conservation Science at Hawk Mountain also will present a free slideshow and lecture at 5 pm in the Visitor Center gallery. During his talk he will explain how the Acopian Center has transformed research and training programs at Hawk Mountain.

The Acopian Center is named to honor its benefactor, Mr. Sarkis Acopian, the most generous donor in Hawk Mountain history, and the person who provided funds to construct and equip the world-class facility.

About the Acopian Center
The Acopian Center was designed to increase Hawk Mountain's leadership role in global raptor conservation, and to expand its international internship program. On the 10th anniversary of the facility, the Sanctuary is celebrating success:
Since the opening, the Acopian Center has welcomed more than 200 scientists from 23 countries for information exchange, research collaborations and meetings.
An additional 31 conservation groups and NGOs have hosted regional meetings, executive retreats or planning sessions.
More than 150 young conservationists from 23 countries have completed a rigorous four-month internship program.
The facility has allowed Hawk Mountain to expand it training opportunities to include shorter stays for mid-level professionals, field experience internships for local North American undergraduates, and academic internships for undergraduate college and high school students.
During the past decade, the Sanctuary and its collaborators have made 129 contributions to the scientific literature, including 97 peer-reviewed journal articles, 24 chapters in books and four books.
The 10,400-square foot Research center houses a five-member conservation science department, and features a GIS map lab, a teaching lab, work space for visiting scientist and interns, offices for Sanctuary scientists, conference and seminar space, an archival storage room and open reading area.
A 2,500-volume library boasts one of the largest collections of raptor literature in the world.
Two residence buildings—one for visiting scientists and another for interns and graduates students—offer accommodations for up to 20 for long or short-term stays. Each residence offers private space for personal study as well as communal areas for interaction. All buildings are surrounded by open natural areas and take in an inspirational view of Hawk Mountain.
HISTORY
In 1994 a National Science Foundation-sponsored panel assessed Hawk Mountain and its potential as a biological field station. The independent analyses revealed that the Sanctuary's expertise in raptor migration science and monitoring "positioned it to provide much-needed leadership in the development of similar programs elsewhere in the world." The panel also recommended that Hawk Mountain pursue a leadership role in facilitating a collaborative conservation science program for Appalachian ecology.
In 1997, and following the report recommendations, the Hawk Mountain board and staff adopted a long-range plan that included seeking the leadership role in global raptor conservation. The idea of a biological field station reemerged, as it would help to accomplish many of the long-range goals, including to expand the international internship program, and to house mid- and senior-level scientists, graduate students and trainees.
Still, as recently as early 2001, Hawk Mountain Sanctuary lacked a field station to house its scientists, interns, graduate students, and visiting scholars. That changed when in autumn of that same year, Lehigh Valley businessman, philanthropist and naturalist Sarkis Acopian made an extraordinary gift that allowed Hawk Mountain to build, equip and endow the maintenance of a center for conservation learning. On September 7, 2002, Hawk Mountain dedicated in honor of its benefactor the new biological field station and training site, Acopian Center for Conservation Learning. Two years later, the Acopian family endowed the directorship in conservation science.

About Hawk Mountain
The world's oldest and largest member-based conservation organization devoted to raptors, Hawk Mountain Sanctuary Association is an international center for raptor conservation. Its 2,500-acre sanctuary is open to the public year-round, and membership and trail fees help to support its far-reaching programs in raptor conservation science and education. To learn more about Hawk Mountain Sanctuary or to support its mission, please visit www.hawkmountain.org or call 610-756-6961