A rarity for raptor research
Vulture re-sighted after 10 years; unit still works
Posted on July 07, 2015 in Science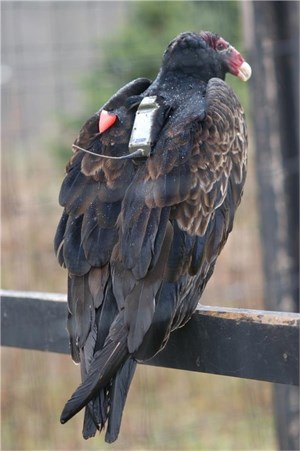 Read the blog now
Learn more about our long-term research on vultures
View tracking maps
Watch the Intro to Hawk Mountain video

A turkey vulture trapped and tagged with a satellite telemetry unit in 2004 by Hawk Mountain Sanctuary was recently re-sighted more than a decade later and with its transmitter still working.

"The units we use are estimated to work anywhere from three to five years, so this one is a real overachiever," jokes Dr. Keith Bildstein, the Sarkis Acopian Director of Conservation Science at Hawk Mountain. He also says the bird is being monitored as part of a long-term study on the movements of scavenging raptors, birds that are little studied but play critical roles in the ecosystem.

The vulture in question is named Irma Broun in honor of the Sanctuary's first volunteer, the wife of its first ornithologist Maurice Broun, and was trapped and tagged in August 2004 by Sanctuary Graduate Student Jamie Mandel at a garbage dump in Penn Argyl.

"Working with a veterinarian, we placed a data logger in the bird's body cavity to record core body temperature and heart rate. It meant that we would need to recapture the bird the following year to extract the logger and download the data to learn how turkey vultures use and save energy during migration," explains Bildstein.

Despite many efforts, the bird was never caught although both the turkey vulture and the tracking device are still ticking more than 10 years later. The finding and re-sighting is outlined on the latest Sanctuary blog, The Vulture Chronicles at hawkmountain.wordpress.com.

Pending a sponsor, the next step will be an attempt to re-trap the bird, secure the data logger, and attach a new telemetry unit. Units cost on average $5,000 for the device and data downloads. To sponsor, call Dr. Bildstein at 570-943-3411 x108.