Champions of the Flyway to support Batumi Raptor Count
An 'amazing race' for raptor conservation
Posted on April 04, 2014 in Raptor News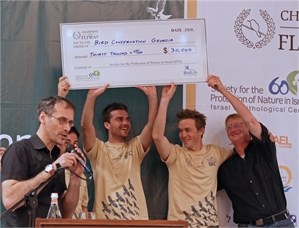 The Batumi Raptor Count, a conservation group that was founded, supported and continues to grow under the direction of Hawk Mountain trainees and dozens of committed young conservationists, was the recipient of funds raised from the first 'Champions of the Flyway,' a 24-hour birdathon held March 31 in Eilat, Israel. Here in one of the most famous and most amazing migration hotspots of the world competing teams converged to identify and log as many species as possible, and to raise funds to protect migrants that pass throughout the Africa Eurasia Flyway.

While the race may have been fun, the goal was serious: raise funding to help BirdLife International tackle illegal killing of birds in Southern and Eastern Europe. With a history of continued shooting, the project in Batumi is the perfect fit.

"Nowhere is the fight against shooting migrating raptors being fought more effectively than on the Black Sea coastline in the Republic of Georgia, where former Hawk Mountain trainees and their volunteers have banded together as the Batumi Raptor Project," says Hawk Mountain's Sarkis Acopian Director of Conservation Science Dr. Keith Bildstein.

Here more than one million migrating raptors representing 35 species pass through the famed "Batumi Bottleneck" in south-west Georgia, making it a critically important for migratory birds. Yet every autumn an average 10,000 raptors drop from the sky as a result of illegal shooting deeply tied to long-held traditions. The Batumi crew, now merged with the Georgia Centre for the Conservation of WildLife to create a new NGO, "Bird Conservation Georgia," uses Hawk Mountain's eco-tourism approach. The staff and volunteers reduce hunting pressure through beneficial actions, such as increased tourism from birding.

"The staff and volunteers at Batumi work to protect the migrants just as Sanctuary founder Rosalie Edge did in the 1930s at Hawk Mountain. They need your help and your support for their courageous effort is greatly appreciated," Bildstein says.

Their effort also works. Visitors to the site stay with local families who they pay room and board, purchase food and build relationships. Many volunteer counters from several countries have increased the amount of monitoring. New programs for school children reach the next generation. Even local hunters and falconers have been engaged as 'ambassadors for conservation,' and now help raise awareness among peers, and all in an area where falconry is firmly established in the culture.
Support the Batumi team
Learn more about the Batumi Raptor Count
Learn more about Bird Conservation Georgia