Youth volunteer honored as Eagle Scout
Peter Phelan helps to conserve the American kestrel
Posted on April 04, 2014 in Giving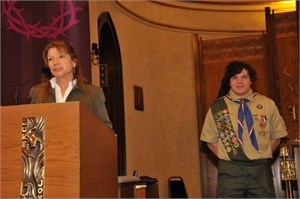 Hawk Mountain Sanctuary congratulates Peter Phelan, a Sanctuary volunteer since the age of 4 who recently achieved the rank of Eagle Scout for promoting the conservation of the American kestrel. Peter worked under the direction of Senior Monitoring Biologist Dr. Laurie Goodrich, who also attended his award ceremony and spoke on the importance of his work.

As part of his project, Peter reached out to local landowners and educated them about American kestrels and the decline of their grassland habitat. He secured landowner permission, then with his troop and family, he built and installed 20 nest boxes in East Penn and Mahoning Townships. Senior Research Biologist Dr. Jean-Francois Therrien joined in, too, teaching Peter how to install the boxes and demonstrating for him how biologists band the young.
View an article online on Peter and his award.