Welcome AmeriCorps to Hawk Mountain's Trails
Posted on June 30, 2017 in Giving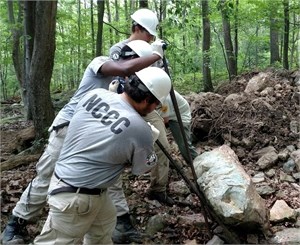 On June 10, Hawk Mountain Sanctuary's operations staff welcomed an AmeriCorps National Civilian Community Corps team to aid with trail maintenance and construction. The "Moose 3" team will work at the Sanctuary until mid July.

This team of young adults will specifically focus on improvements along Hawk Mountain's Golden Eagle Trail, which is part of the Sanctuary's higher level Loop Trail along with the River of Rocks and Skyline Trails. The group's goal is to assist with sustainable trail construction while receiving education on reduced trail impact.

Todd Bauman, Director of Land and Facilities at the Sanctuary, noted that this is appropriate and welcome assistance: "Since AmeriCorps roots stem from the Civilian Conservation Corps (CCC) program of the 1930's, it is fitting that they are partnering with us to assist in meeting our land management goals. This is a great collaboration for the Sanctuary."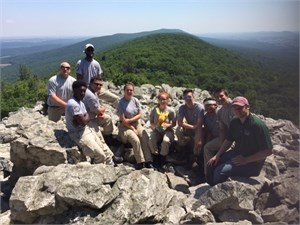 AmeriCorps NCCC is committed to strengthen communities and develop leaders through team based national and community service by assisting community and faith-based based organizations, national nonprofits, schools, local municipalities, national and state parks, and Indian tribes. Sponsoring organizations request NCCC projects that span five issue areas including: Natural and Other Disasters, Infrastructure Improvement, Environmental Stewardship, Energy Conservation, and Urban and Rural Development.