Warden Award: Carl Roe
Posted on November 06, 2013 in Giving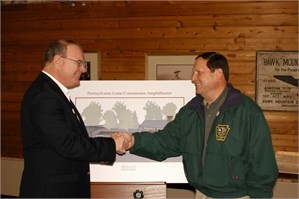 The Hawk Mountain board of directors at its annual meeting presented Carl Roe with its highest honor, the Warden Award. This award is a replica of the badge worn by Maurice Broun and is presented to select individuals who demonstrate outstanding service or leadership support of the Sanctuary and its conservation missions.
About Carl Roe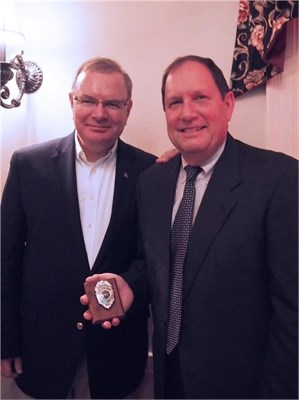 Carl Roe is a lifelong conservationist with an impressive 30-year career in the U.S. Army that took him from combat to the classroom to the administrator's chair. With three master degrees (public administration, management and Latin American studies) and a bachelor in political science, Roe is well equipped to serve the public and its resources. During his military service, for example, he held leadership positions in El Paso, Texas, where was responsible for nine directorates that included Environmental Resources, Education Services and Community Activities, among others, and was responsible for wildlife management practices that impacted more than 2,000 species on more than 1.1 million acres of land.

Carl put his vast experience to work back in his home state when in 2001 he joined the Pennsylvania Game Commission as the agency's first-ever long-range strategic planner, and in 2005, the Board of Commissioners unanimously elected him Executive Director. Under his leadership, the PGC added more than 50,000 acres of state game lands, implemented the Mentored Youth Hunting Program, and shifted the focus of deer management to take into account herd health and habitat, among many other accolades.

Here at Hawk Mountain, Roe made a major impact by working with the Sanctuary to promote the importance of environmental education, increasing attention on the importance of non-game species and their habitats, and promoting the need to reach a broad public audience, a new goal of the PGC strategic plan. In support of these goals, he was instrumental in securing a lead $250,000 jump-start gift to Hawk Mountain to complete architect's renderings and planning for a new Amphitheater and Outdoor Classroom. "It's important that Pennsylvania citizens appreciate our role in enhancing the quality of life by managing and protecting our wildlife resources," he says. Roe believed Hawk Mountain an ideal location because it aggressively promotes the Sanctuary as an outdoor destination and encourages visitors to explore Pennsylvania's rich diversity…both in the air and on the ground.

Roe also has contributed his own time serving on the steering committee for amphitheater planning, and lending his tremendous insight into the planning phase. And, he already has paved the way to ensure a Game Commission access road will one day become a staff entrance—which will enable the Sanctuary to implement a new vehicle flow—and helped secure a $10,000 grant to fund telemetry research on vultures in Bradford County. Moreover, he has been instrumental in recommending partners and making introductions that have strong potential to support Hawk Mountain and its mission well into the future.
As Carl looks to his retirement in January, Hawk Mountain wishes to honor his work for the people and the wildlife of Pennsylvania, and for his work to further the mission and ensure the long-term success of Hawk Mountain Sanctuary.