Vision for the Future
Upgrades to Aging Visitor Center Announced
Posted on August 29, 2022 in Giving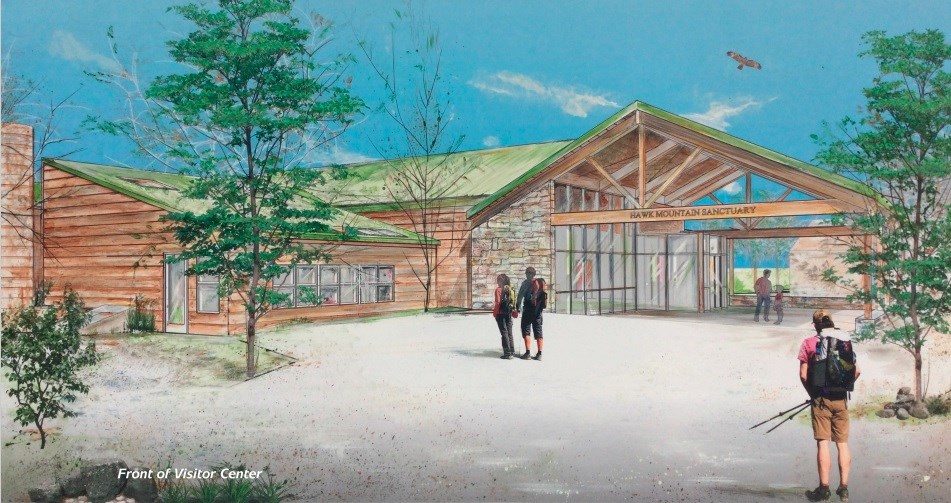 Following a strategic planning process and then an in-depth feasibility study, Hawk Mountain Sanctuary has committed to upgrade its aging Visitor Center, the headquarters for global raptor conservation and the welcoming point for visitors to learn about raptors and their amazing migrations, and to explore the Sanctuary. This work capstones a series of long-term upgrades that include the Acopian Center in 2002, the Education Building in 2012, the Accessible Silhouette Trail in 2015, and the Amphitheater in 2020.

While the top goal is to address aging systems and infrastructure, we intend to inspire visitors with a new and accessible entrance, gabled roof throughout that draws the eye to soaring raptor carvings, and a new covered outdoor space that looks out and over the Native Plant Garden, doubling as an optional exit on busy days.

The Planning Process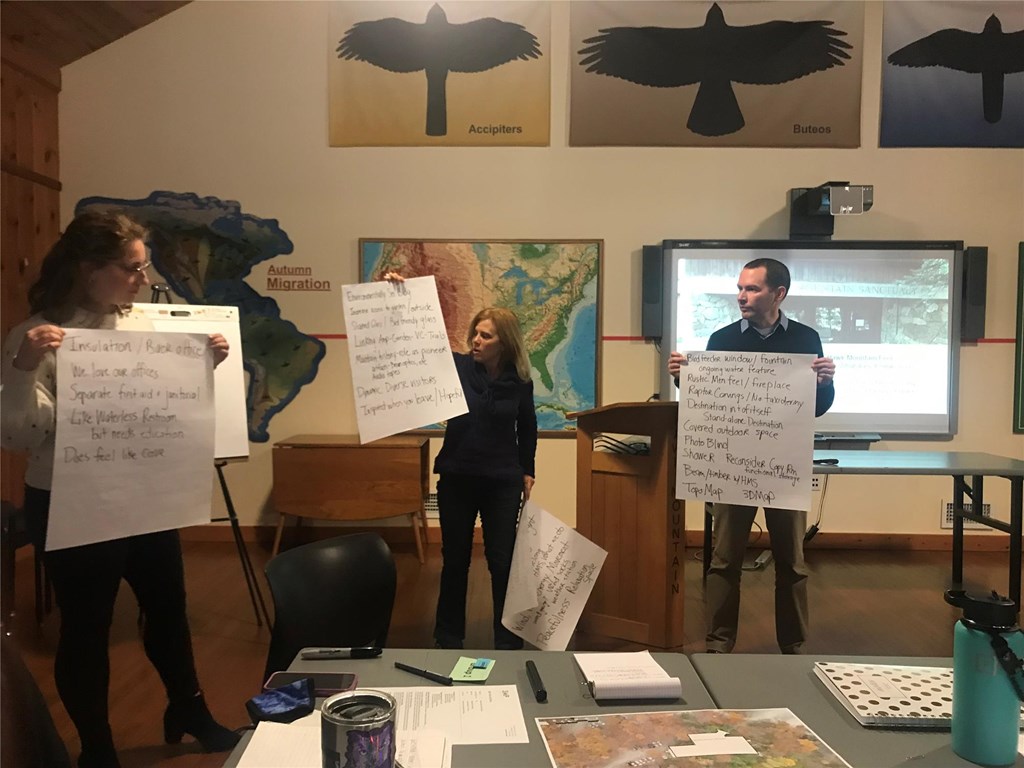 Thanks to generous funding from the Stratton Foundation, with additional support from the Spurlino Family Fund, the planning process began by visiting a dozen regional nature centers and similar facilities to talk with the people who work in those spaces, learning from what they liked and disliked, and where they would make changes. Following lengthy vetting, the Sanctuary contracted with SMP Architects and their design team to lead the work. A planning committee of staff and board facilitated early discussions internally as well as with stakeholders including volunteers, board, and staff. The Sanctuary also completed a grant-funded energy audit of our existing Visitor Center, which revealed tremendous potential to improve our efficiency.
The entire process begin in December 2019, with a resulting vision presented to the board of directors at its November 2021 meeting. The full board approved the direction and vision in June 2022.
Top Goals and Objectives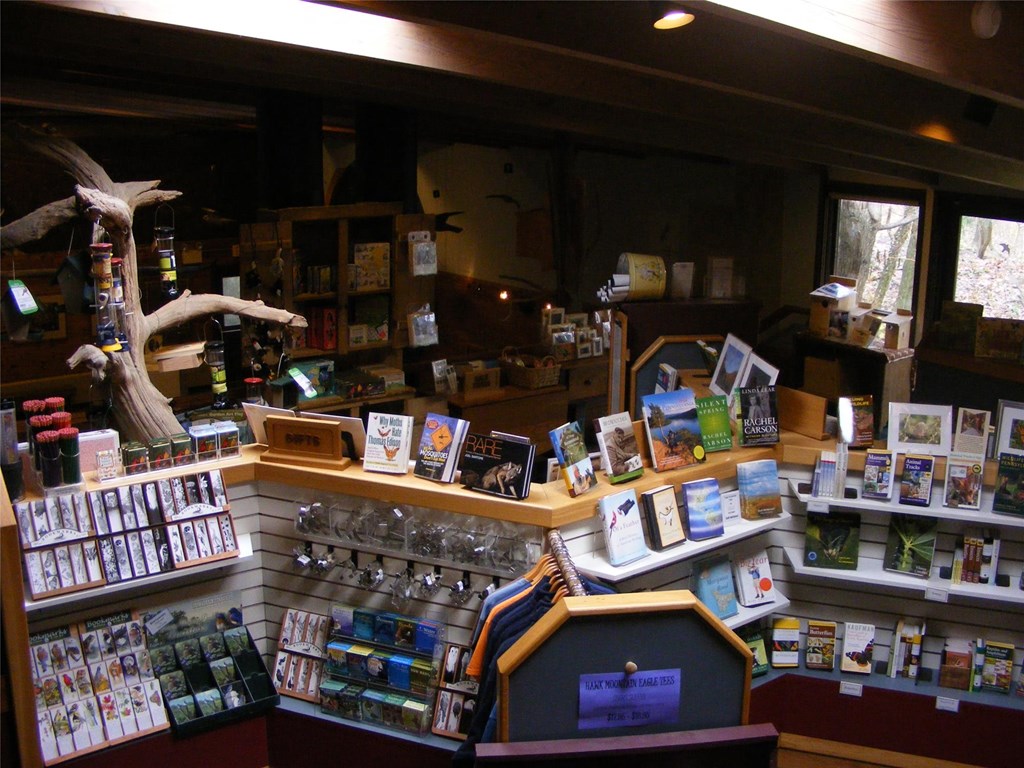 The nearly 50-year-old Visitor Center has served us well, but today we face an aged roof, inefficient heating and cooling, lack of insulation and deteriorated siding and walls. In short, the infrastructure has outlasted its reasonable lifespan. Renovating and redesigning an existing structure is often more challenging than building a structure from scratch. But, the newly designed Visitor Center will look and feel new and be a "green choice" by recycling what we can, while also serving to maintain a sense of familiarity within the new build. Goals include:

Education for All: Create an accessible and inclusive center that introduces people to the world of raptor conservation, science, and Appalachian ecology as a launching point to the Sanctuary
Preserve Tradition: Blend modern elements seamlessly with historic materials and native and/or locally sourced stone and wood
Promote Science: Honor our history while sharing the latest in global raptor conservation science, training, and conservation
Keep it Green: Model sustainable building practices that will improve efficiency, reduce impact, and offer education opportunities, with particular attention to the latest in bird friendly glass.

Inspire: Inspire raptor conservation through education, science, and stewardship.
Inside, we will eliminate the downstairs gallery to open the space and remove accessibility barriers, then create a welcoming point to learn about raptors and their amazing migrations at each side of the building. The design will improve visitor flow, relocating the store to one distinct area, and demonstrate best practices in sustainable and energy efficient design. Discussions are also underway to determine if we can relocate some raptor enclosures to better connect people with live raptors. Ultimately, we will provide an open, flexible space with more natural light that inspires and delights.
Learn More or Support the Vision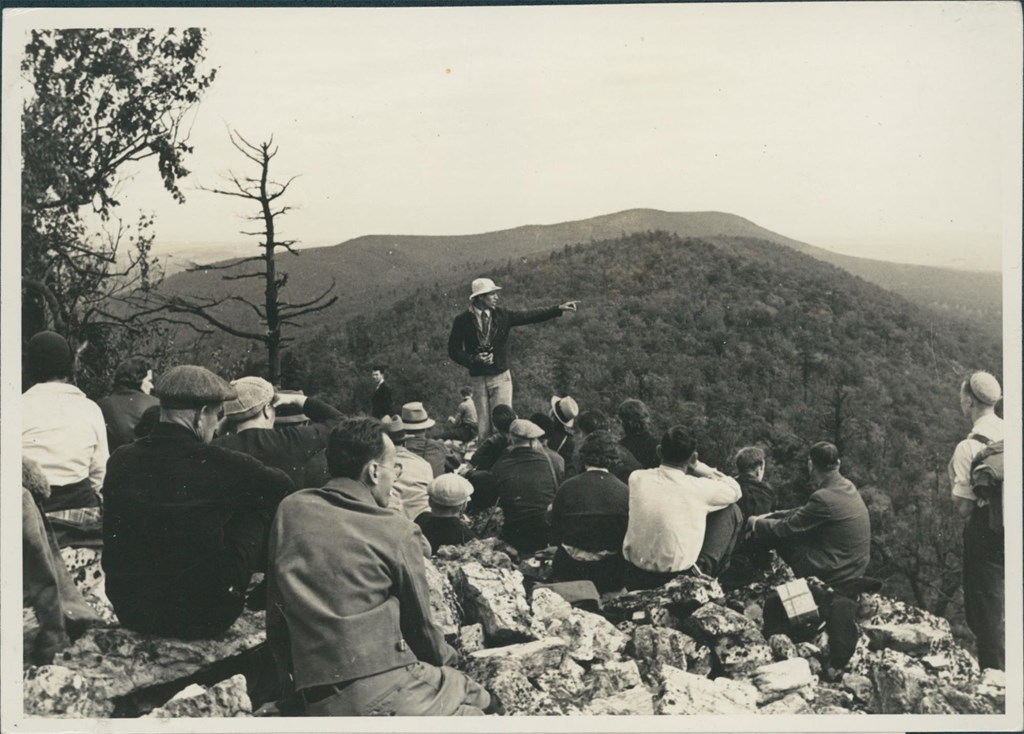 Hawk Mountain has and will continue to inspire global raptor conservation by connecting people through science, education, and stewardship of our incredible Sanctuary. We intend to honor our legacy while looking ahead, as we must, to the future, and planning now for an inclusive and beautiful headquarters for global raptor conservation. To learn more or support this ambitious project, please contact us today:
Sean Grace, President
[email protected]
610-756-6000 x213