Tompkins VIST Bank Supports Sanctuary Education
Posted on December 12, 2017 in Giving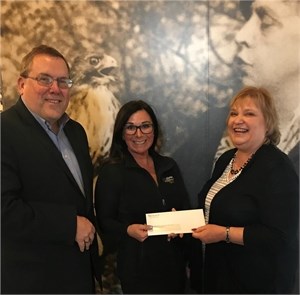 Visiting school groups at Hawk Mountain Sanctuary will continue to enjoy guided field trips, thanks in part to support from Tompkins VIST Bank, which recently awarded $5,000 in Educational Improvement Tax Credit (EITC) funding to the Sanctuary. The gift helps to support educational programming at Hawk Mountain for public school groups.

"Hawk Mountain is thrilled to have Tompkins VIST Bank as a corporate partner and friend," says Director of Development Mary Linkevich.
"It's great to know this community banking organization supports both the outdoors and public education," she adds.

Tompkins VIST Bank is dedicated to enhancing the vitality of our community through the support of more than 200 local economic, arts, education, and health-related organizations. Above that, Tompkins VIST employees contribute countless hours of community service and fundraising activities for local non-profits.