The Bass Pro Shops and Cabela's Outdoor Fund award grant to the Sanctuary
Posted on December 19, 2020 in Giving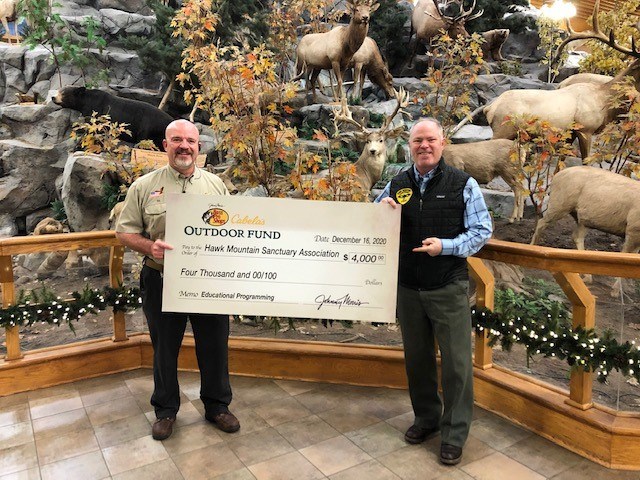 Hawk Mountain Sanctuary President Sean Grace today received a $4,000 grant from The Bass Pro Shops and Cabela's Outdoor Fund to support Hawk Mountain Sanctuary and its wide range of visitor services.

"We're honored to receive this generous grant," Grace says. "Hawk Mountain Sanctuary has had a long-standing relationship with our partners at Cabela's and this funding will help us to introduce even more people to the Appalachian Mountain ecosystem, to raptor migration, and to our raptor conservation mission," Grace says.

In addition to the Sanctuary, The Bass Pro Shops and Cabela's Outdoor Fund also supported the hiker's pavilion at St. John's Church in Port Clinton, veterans' hunts at Camp Freedom in Allentown, an adventure for children with life-altering medical or social conditions at One Wish Foundation in Fleetwood, and wildlife education programs at the Lehigh Valley Zoological Society in Schnecksville. The fund also supported 38 grants to various scout, 4H and Trail Life troops.

Funds will support the Sanctuary's general operations, which include on-site and online education programs for a range of audiences, year-round trail maintenance, award-winning forest stewardship, and the outstanding visitor services and rugged outdoor experience that Hawk Mountain is famous for.

"We're proud to support the Sanctuary and the many year-round outdoor opportunities they offer our community. We applaud their ongoing efforts to ensure young people can connect with nature, learn conservation practices, and have a good time outdoors," said Cabela's General Manager Ed Bartolotta who presented the check.

Hawk Mountain Sanctuary is the world's first refuge for birds of prey and an international center for raptor conservation. Founded in 1934, its annual autumn hawk migration count represents the longest and most continuous record of raptor populations in the world. The annual hawk count offers critical data to document trends and this systematic survey is also used as a learning and training tool, and a recreational outlet for wildlife enthusiasts and bird watchers.

The non-profit Hawk Mountain Sanctuary is open to the public year-round for hiking, wildlife watching, and nature discovery. Operated as an eco-tourist destination, revenue from trail fees and membership dues help to support the Sanctuary's local-to-global raptor conservation research and education programs, and to maintain the eight-mile trail system, Visitor Center and other facilities such as its new Amphitheater and accessible Silhouette Trail.

Guided by the leadership of Bass Pro founder Johnny Morris, the Outdoor Fund empowers Bass Pro Shops and Cabela's customers to support conservation efforts by rounding up their purchases.

"By rallying our customers alongside dedicated team members, industry partners and leading conservation organizations like Hawk Mountain Sanctuary, Bass Pro and Cabela's is creating North America's largest conservation movement to collectively shape the future of the outdoors and all who love it for generations to come," Barletta adds.

To learn more about Hawk Mountain Sanctuary, visit www.hawkmountain.org or call 610-756-6961.
# # #