Progress with Partners in Africa
Posted on April 26, 2019 in Giving
Hawk Mountain is currently involved in multiple research projects in Africa, primarily focused on vultures and eagles. These partnerships involve a combination of students, former trainees, and enthusiastic raptor advocates that are illuminating new ecological realities for a variety of species, and investing energy in the pursuit of effective, long-lasting conservation approaches.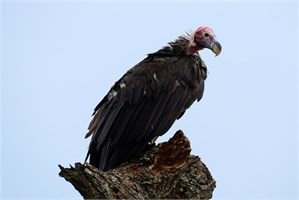 Some of our partners are working in the southern region of Africa, including Kudzanai (Kudzi) Dhliwayo, a conservation science trainee from spring of 2018. Kudzi is beginning a PhD project with Dr. Colleen Downs at the KwaZulu-Natal University in South Africa that will investigate nesting success, nest density, and preferred nesting conditions for lappet-faced and white-headed vultures in South-East Lowveld, Zimbabwe. Given the rapid declines in old world vulture species that have occurred over the last 15 years, monitoring changes in population and ensuring that reproductive rates are understood will allow for a more proactive approach to predicting change and responding appropriately. This study will incorporate progressive technology, including the potential use of drones to survey nests in order to reduce disturbance of breeding birds. Kudzi will also facilitate an investigation of local perception and attitudes towards vultures to further inform conservation action, an endeavor that has particular relevance in her study area due to a market for vulture parts for use in cultural practices. As with many multi-faceted issues, understanding all sides of the problem will allow for a more successful and long-standing plan, and this type of comprehensive knowledge requires creative study methods that acknowledge rather than ignore the relevance of human involvement in the issue. Kudzi's study would fill knowledge gaps for both vulture species, and her results would ideally be published and shared with wildlife managers, researchers and conservationists.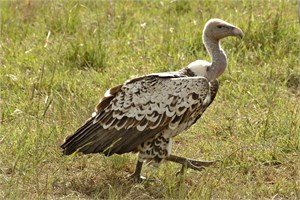 Former 2016 leadership trainee Dr. Lindy Thompson from the Endangered Wildlife Trust in South Africa will be helping advise Kudzi and assist in trapping birds to study home range. Kudzi may also compare the movement data she collects in Zimbabwe with the data collected by another one of our colleagues working on African vultures, Dr. Evan Buechley from Hawkwatch International. Evan recently deployed ten tracking units on white-backed, Ruppell's, and lappet-faced vultures in Ethiopia. These transmitters were secured through a partnership involving Hawk Mountain, Hawkwatch International, the Endangered Wildlife Trust, and our colleagues at the Max Planck Institute in Germany.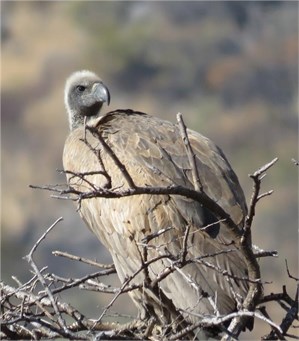 Our colleague Lindy will also be working in South Africa to continue her research on hooded vultures, following successful studies from her post-doctoral work on the nesting habitat, nest location, and success rates of breeding "hoodies" as they are affectionately called, using motion-triggered cameras. We are collaborating on several grant proposals that would expand vulture movement ecology work by adding white-backed and lappet-faced vultures into this study. In a heartening tale of local participation, Lindy was recently contacted by a local colleague in Zimbabwe who had found and recovered a tracking unit from one of Lindy's vultures, and took detailed photos of the location as well. This is a notable gift, considering the cost of each transmitter and the difficulty of finding them once they are lost, and while unfortunately this discovery means the individual bird will no longer be tracked, the returned transmitter can now be deployed on a new vulture. Furthermore, the local's description and photos may assist in helping biologists discover what happened.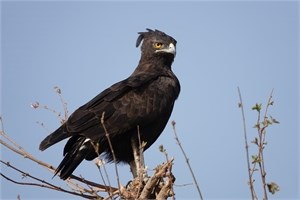 In more trainee news, Machawe (Maps) Maphalala who was with us during the 2015 fall season recently completed his PhD, investigating the habitat use of long-crested and Wahlberg's eagles in South Africa, demonstrating that savanna, wetlands, and grasslands are important habitat for both species. His project was funded by the Sperry Fund, in partnership with Hawk Mountain and under the supervision of Dr. Colleen Downs from the KwaZulu-Natal University in South Africa.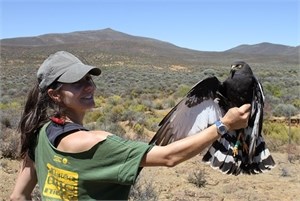 Dr. Sophie Garcia-Heras, a leadership trainee from the 2017 fall season has successfully shed light on the migratory patterns and size of settlement areas of the endangered and endemic black harriers of South Africa. Her work is one of the first descriptions of intra-African migrants, meaning birds whose movements remain within the continental boundaries. In the case of black harriers, Sophie, assisted by a team including her PhD supervisor Dr. Rob Simmons from the Fiztpatrick Institute and Hawk Mountain scientists, helped discover a West to East migration, speculating that this unique pattern could be in response to seasonal movements of striped mice. Given the fragile status of this species, they are a high priority for conservation efforts. Sophie's hard work and comprehensive approach to understanding the species holistically has provided a needed baseline of information that should strengthen the chances of survival for this stunning harrier in the future.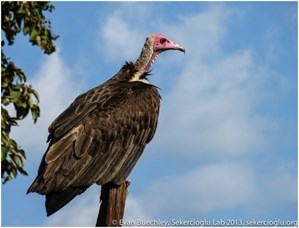 Mawdo Jallow, a trainee with us during the 2014 spring season now works for the Department of Parks and Wildlife Management in the Gambia, one of the last strongholds for hooded vultures. He conducts vulture road surveys and quarterly counts at butcher shops to add to our understanding of population fluctuations and the general status of vulture species in that region. He is assisted by our current conservation science trainee Momodou Dibba. Momodou is working on analysis of hooded vulture count data this spring.

Additionally, we are partnering with Dr. Campbell Murn from the Hawk Conservancy Trust based out of the United Kingdom, a valued colleague who has ambitiously taken on a leadership role in initiating a global agreement on how to proceed with vulture conservation and research initiatives, welcoming collaborators to the same table in hopes that the old-world species will be pulled back from their current endangerment.

Taken all together, these projects represent a heartening pool of people that are passionate about the future of raptors across the African continent. From illustrating movement patterns to monitoring nests and involving locals in research, there is a plethora of good intention within the African raptor conservation community, and we are thrilled to be involved and collaborating with several of them. As our mission states, Hawk Mountain Sanctuary strives to conserve birds of prey worldwide by providing leadership in raptor conservation science and education. By supporting former trainees and partnering with other global leaders, we intend to do our part in facilitating innovation within the realm of raptor conservation, and providing a stronghold of resources to which our trainees can return in order to bring their projects to fruition. Our work is never done, but our work so far has been done well! Thank you to all of the trainees and partners who are protecting African raptor species and giving them the future they deserve.

We need funding for our work in Africa, especially for projects that require the purchase of transmitters for movement ecology studies. Contact our Director of Conservation Science, Dr. Laurie Goodrich, for more information on how to help these projects continue.